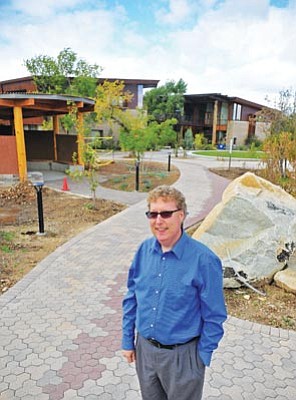 Originally Published: October 13, 2013 6 a.m.
Prescott College administrators are working to change the way tuition and financial aid is handled - and they've lowered tuition costs by nearly 12 percent.
The incoming, on-campus undergraduate tuition reduction and simplified financial aid process is part of a new initiative called "The Prescott Plan." That initiative is set to begin in the fall 2014 semester.
Prescott College Dean of Enrollment Brian Sajko said the college was able to lower tuition by looking at what it could discount, such as merit-aid and need-based aid when possible, and by creating an efficient school environment.
"Private schools will do a 'sticker price,' and then they discount it and have an average price people actually pay to come there," Sajko said. "The way you meet that discount is through institutional aid and through loans, private loans and grants and things like that. We looked at all of our students, especially in the on-campus undergraduate program, which this focus is on."
Sajko, who is spearheading the effort to make financial aid and college tuition more transparent for students, said he hopes other institutions will use Prescott College as a model for similar changes.
For the current year, tuition costs at the school average $28,320 for on-campus undergraduate studies. That number will drop to $24,960 a year with the reduction, Sajko said.
Classes are kept small at the college, which Sajko said offers a value to students who desire more one-on-one education. Approximately 1,200 students are currently enrolled at the college. Of that, about 700 are limited-residency students, with about 500 on campus, he said.
"If people look at value and wonder why they would pay this compared to a state tuition, it's become you're not in a class with 500 students. It's much more personal all the way through," Sajko said. "We're Arizona's example of a four-year liberal arts school. The value of that is apparent to most of the rest of the nation, because there are many schools in different states, but here we're kind of it. We're a broad liberal arts school. In all that we teach, it's infused with environmental, liberal arts, and social justice, but we have degrees in psychology, education, you could major in virtually anything you want here."
Tuition calculations, he said, can be done online as well.
"We did proportionately lower some of the merit aid, which is the aid you get for being a better student. That still doesn't affect some of the other funded scholarships we have, such as our mountain biking team. The basic formulas will all be online so everyone can see it up front," Sajko said.
Need-based aid also will see an improvement with the changes, he added.
"That means your income, your family, shows you need more help to make the tuition payment," Sajko said. "We do our best to put a chunk of money there, it comes from us, that you don't repay, to help you afford to attend. The goal there is, if you come from a family where you don't have a lot of money, and you want the kind of education we offer, it shouldn't preclude you from having to go to a place where it's 500 students in a class, but where you can still afford to come to a place that's one-on-one and very personal."
Prescott College President Kristin Woolever said in an Oct. 1 news release that lower tuition might make college more desirable to students who might otherwise question the cost of higher education.
"Unfortunately, skyrocketing costs have put college education out of reach for many. By lowering our tuition, Prescott College is taking a principled stance against this trend," Woolever said.