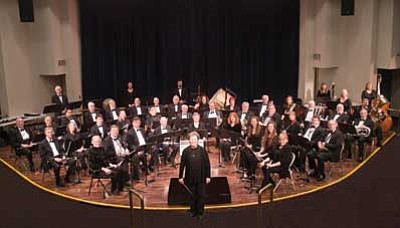 Originally Published: March 6, 2013 9:59 p.m.
"A Spring Fling" will take center stage Sunday, March 10, when the Central Arizona Concert Band ends its 16th season of concerts in the Davis Learning Center on the Embry-Riddle Aeronautical University campus.
The concert begins at 3 p.m. Tickets are $10 for adults and $3 for students with IDs and will go on sale at the door at 2:15 p.m. There will be no advance ticket sales.
The program will feature a number of selections for brass-wind ensembles that can be expected to create vivid mental images on the part of the audience, concert publicity chairman Joe Cotten said. "The Skier's Waltz provides a 'cinerama-type' view of the Swiss Alps and crowds of skiers gracefully descending the slopes."
"'Der Freischutz Overture' recalls the ominous implications of the deal between man and the devil from German folklore," Cotten said, adding the audience will be able to "picture the idyllic image evoked by the theme from 'Sleepy Lagoon.'"
Other highlights of the concert include selections from the soundtrack of the movie "Jaws" and sounds from the British comedy, "Those Magnificent Men in Their Flying Machines."
Conductor Clydene Dechert will round out the program with a musical toast to Andre Kostelanetz by Leonard Bernstein, a "ramble through the countryside on a Dutch railroad and a rousing Greek dance number for 'Zorba the Greek,'" among others. Dechert and the band will dedicate a performance of "An American Elegy" to those lost and suffering from tragedies at Columbine and Aurora, Colo., and Sandy Hook Elementary School in Newtown, Conn.
The Sunday concert completes the Central Arizona Concert Band's winter-spring portion of its 16th season.
"We have been and continue to be fortunate to have in the band some of the most talented brass and wind players in the area," founder Bob Boorn said. "We also provide a professional environment where advanced students from our local school districts and the community can improve their skills and further their careers in music. We look forward to many more years of service to and the generous support of the community."
The band will continue its concert program with a series of three free programs presented on the steps of the Yavapai County Courthouse at
7 p.m. on the third Thursdays of June, July and August.