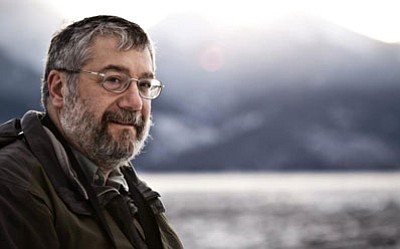 Originally Published: July 23, 2013 6:01 a.m.
Not only the temperature but also the temperament tends to vary widely when comparing Arizona with Alaska. And the Rev. Peter Perry, who supplanted our southern exposure for his current northern exposure, spoke in regard to some of the contrasts late last month during a talk before a group of current congregants at the Prescott United Methodist Church, where he fed the flock for seven years back in the 1990s. Peter's a good flock-feeder, I must say, and referring to him as "the Rev." is a bit high-falutin'. He is indeed reverential, of course, but "deferential" connotes him better, so let's just settle for the "Pastor Peter Perry" whom the PUMC parishioners came to know and love.
After "pastorizing" in Prescott and then in Phoenix, he took the culture leap seven years ago to minister at United Methodist churches in Seward and now Anchorage. And his striving to help in the spiritual and everyday lives of the Alaskans with whom he comes in contact is challenging but also gratifying in many respects. Alaskans are indeed a hardy breed, but the problem areas that they share with the other 49 states are often more acute. Alcoholism and teen pregnancy are widespread, for example, and the suicide rate among Alaskans is the highest in the nation on a per capita basis. And depression is commonplace.
Depression? Well yes, as the condition is no doubt fueled by those endless nights resulting in winters of discontent. And those northern lights (which have seen queer sights, according to poet Robert Service) are nice to "ooh and aah" over but their luminescence, in essence, is monumentally minimal and does little to elevate the psyche of the populace.
But the joylessness is quite often offset by joyfulness that is embraced by the people of that huge state with a square mileage more than twice that of my deposed home state of Texas, which is still smarting from the affront following 54 years as No. 2. And Pastor Peter focused on that positive lifestyle aspect as he delivered an entertaining hour-long rapid-fire talk. His laid-back presentation brought to mind one sermon in particular that he delivered during his Prescott ministry. I wrote about it 14 years ago, but just for fun would like to do a rehash because it contained lots of alliterative derivatives that I foisted upon readers after that pesky peripatetic perceptive perspicacious percipient Pastor Peter Perry prompted me to respond in kind to a sermon he delivered concerning the characters in "Winnie the Pooh".
Now, he had some nice things to say about each animalistic mystic ranging from Tigger to Eeyore to Piglet to Pooh. He was particularly taken with Pooh because Pastor Peter would never be one to pooh-pooh Pooh. It's just simply not in his nature. His sermon title was "Confronting Our Fears With Piglet and Pooh" and he prefaced his talk by telling of an aunt of his who had amassed a collection of a variety of pigs. There were Porky pigs. Petunia pigs. Porcelain pigs. Pewter pigs. Plastic pigs. Pig platters. And pig pillows. She was really "pigged out," and Pastor Peter uncharacteristically demeaned her a bit by referring to her as a "swine-ophile" and "oinkologist".
Well, I felt no compunction when it came to chiding the good pastor for the way in which he peppered the parishioners in the pews from the pulpit as he painted a painstaking picture of partially palatable prattle. Pertaining to Piglet and, to paraphrase, Pastor Peter portrayed the plump, pink, pudgy, pint-sized pee-wee porker as a paragon of plaintive paranoia whose principal predilection provided a poignant penchant for passivity. It's probably problematical, but Piglet's proclivity for peril produced peccadilloes that precluded any perceived push for panache. And please, I added, pardon me for lapsing into platitudinous and perfunctory perambulations.
But enough! By now you're no doubt ready for an obliteration of the alliteration. Getting to the meat of Peter's sermon, though, was his observation that Piglet is "afraid of the unknown and imagined" and that, much like that little guy, "our fears are often more imagined than real. Our greatest fears," he added, "are reserved for those things that go bump in the night, the monster under the bed or in the closet, the eventuality that never happens." To that I can only utter a hearty "Amen!" Pastor Peter's head, I say, is screwed on right.
Contact the columnist at editorial@prescottaz.com.