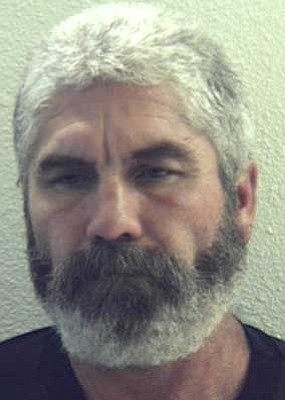 Originally Published: January 24, 2013 1:37 p.m.
Prescott Police officers arrested Mark T. Elkins, 44, of Prescott on Wednesday on felony charges including aggravated assault from an incident two months ago, after an off-duty Prescott Police officer saw him around 2 p.m. driving westbound on State Highway 69 near the mall.
The officer knew Elkins was wanted by Prescott Police for an aggravated assault on a woman on Nov. 29, so the officer called the police department and followed Elkins to a nearby motel, Prescott Police Lt. Ken Morley said.
"Several other officers responded to the hotel and spoke to Mr. Elkins through a closed door," Morley said. "Mr. Elkins surrendered after several minutes of conversation with the officers."
Officers brought Elkins to the police department where Elkins said he knew nothing about the assault and that his wife often caused injuries to herself, Morley said.
Elkins was booked into the Yavapai County Jail in Camp Verde on felony charges of aggravated assault and unlawful imprisonment per domestic violence.
In the Nov. 29 incident, officers answered a call at 2:30 a.m. about a woman assaulted at an apartment on North Pleasant Street.
When police arrived they spoke to a 36-year-old woman whose face was bloody and possibly had a broken nose, who told officers that Elkins hit her several times, choked her while in their apartment, then fled when she left to call for help, Morley said.
Elkins had been released from Yavapai County Jail just days before that assault for a similar assault against the same woman, Morley said.