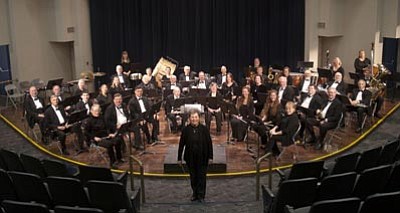 Originally Published: January 23, 2013 9:59 p.m.
The Central Arizona Concert Band has lined up music for all tastes for its upcoming winter concert, Sunday, Jan. 27, at the Davis Learning Center on the Embry-Riddle Aeronautical University campus.
The concert begins at 3 p.m. Tickets are $10 for adults and $3 for youths under 18 and students. For information, call Joe Cotten at 928-636-0229.
"We are literally playing a "something for everyone" concert, conductor Clydene Dechert said. "We have Broadway show tunes, traditional brass band marches, movie soundtrack selections, Latin dance numbers, light opera selections and a familiar symphonic work arranged for concert band. We even have an unusual composition by that well known musical satirist, P.D.Q. Bach."
The program begins with a traditional march, "The Continental," which evokes memories of the traveling circus of yesteryear and moves up to a Spanish waltz. "The Finale" from Dvorak's "New World Symphony" will come next, and then the audience will be in for a treat.
"So as not to let the program get too serious, the band will play the 'Grand Serenade for an Awful Lot of Winds and Percussion' by P.D.Q. Bach, recalling some of the antics familiar to fans of Spike Jones and his City Slickers. Some of the musicians actually discard their instruments and continue playing on the mouthpiece alone, and the percussion section can be counted on for some unusual activities," Dechert said.
A "spirited" pasodoble follows the intermission, and then the band will play Oscar Hammerstein's "You'll Never Walk Alone" from "Carousel." "We want to dedicate this number to all those directly affected by the tragedy in Newtown, Conn.," Dechert said.
The remainder of the program includes highlights from the soundtrack of "Jurassic Park" and excerpts from Victor Herbert's "Naughty Marietta."
The nonprofit Central Arizona Concert Band comprises a group of 60 musicians, including professionals, retired professionals and students from local schools and the community. With Dechert as conductor and Bob Boorn, founder, the band presents four concerts each year during the fall-spring season, in addition to monthly free concerts on the Yavapai County Courthouse Plaza.