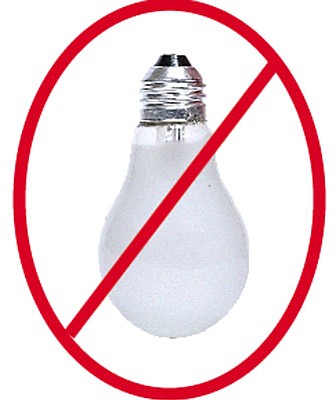 Originally Published: December 31, 2013 6:02 a.m.
YAVAPAI COUNTY - As the world rings in 2014, consumers will also be saying goodbye to the incandescent light bulb.
Beginning tomorrow, Jan. 1, light bulb manufacturers are no longer allowed to produce 40-watt and 60-watt incandescent light bulbs. The ban on incandescent lights isn't anything new. The government began phasing out 100-watt light bulbs in 2012 and 75-watt light bulbs 2013.
The 2007 Energy Independence and Security Act, signed into law by President George W. Bush in December 2007, states that only bulbs that meet certain energy-efficiency standards may be manufactured by or imported into the United States. Incandescent bulbs do not meet those standards.
According to the website www.Sylvania.com, incandescent lamps, the original sources of electric light, were introduced in 1879.
While 100- and 75-watt bulbs have been out of existence for more than a year, the elimination of 60- and 40-watt bulbs will have a "much greater impact on U.S. consumers because they are the two most popular bulbs on the market," according IMS Research, an electronics industry research firm .
The new law doesn't ban the buying or selling the bulbs, only the manufacturing of them. Stores can sell their remaining stock of incandescent bulbs but, once they are gone, they will not be able to order more.
K's Lighting, 735 6th St. Prescott, just recently ran out of their higher watt stock of incandescent bulbs, but they still have a supply of 40 and 60-watt incandescent bulbs, owner Karen Lollar said. The store is currently selling eco-friendly bulbs as replacements for the already banned higher wattage incandescent bulbs.
"We do have something that can replace the 75 and 100-watt bulbs and they are bright," Lollar said. "We have a 72-watt that equals a 100-watt and a 53-watt that is equivalent to a 75-watt bulb."
With the ban still in its infancy stage and stores still stocking a variety of different wattages of incandescent bulbs, Lollar couldn't really comment on how the ban would affect her business or how customers have been reacting to the new energy efficient bulbs.
"Until it really happens, I don't know," Lollar said. "I'd have to wait until we sell some of the new bulbs and see what people think, but we just got them in."
The development of newer lamp technologies such as compact fluorescent and LED, offer consumers alternate choices to replace incandescent lamps, according to Sylvania.com. Compact fluorescent and LED bulbs provide greater operating efficiencies and significant energy savings.
However, compact fluorescent and LED bulbs do not emit light of the same color as incandescent bulbs, which can change the appearance of objects in a room where the energy efficient bulbs are used, the website read.
Consumers looking to stock up on 40 and 60-watt incandescent bulbs can still find some on the shelves at a variety of stores including K's Lighting, Walmart off of Highway 69, and Home Depot in Prescott Valley.
Prescott Valley resident Tony Alamonte, 57, was busy loading his cart on Monday at Home Depot in Prescott with 40- and 60-watt incandescent bulbs as his wife Keri Alamonte, 55, looked on.
"It's not that I am against saving energy, I just don't like being forced to do it," Tony Alamonte said. "I'm not a fan of the new eco-friendly bulbs. I think their light is harsh and they are more expensive. So, we are hitting up stores and stockpiling light bulbs."
"Hey, if things get bad, we can always sell them on the black market," Keri Alamonte added, laughing.