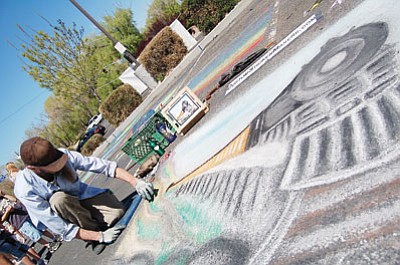 Originally Published: April 21, 2013 9:55 p.m.
In a weekend that saw Earth Day celebrations, a wildfire expo, sports activities and a sci-fi mini film festival, chalk also ranked high among the Prescott area's busy crowds.
Children and adults alike crammed into the National Bank of Arizona parking lot at the corner of Montezuma and Sheldon Street over the weekend for the 2013 Chalk It Up Prescott event. Many came to leave their personalized if impermanent mark for the popular event, while others simply admired the artistic talent.
Christina Adams, board member with the Chalk It Up nonprofit organization, helps organize the annual festival.
The first day of the 2012 event, she said, attracted more than 650 chalk artists. This year, the first day had more than 750 participants and, all told, nearly 1,200 people got chalky. Many more drifted in and out of the parking to simply view the art, Adams said.
Chalk artist Laurie Antoinette traveled from the Palmdale, Calif., area to take part in Chalk It Up. She's worked as a chalk artist for approximately 21 years, but the 2013 festival marked her first visit to Prescott.
"It's a wonderful festival. The best part is seeing all the (children). They're so enthusiastic and fearless," Antoinette said. "I'm really enjoying Prescott and want to come back,"
Prescott artist Jeff Daverman chalked a piece titled "The Train," dedicated to his grandfather, who Daverman called his greatest artistic influence.
"He was a chalk artist for 60 years. He and my grandmother traveled the world with his chalk art. He called them 'Chalk Talks.' He would tell stories and draw. My grandma would play piano and he would sing," Daverman said.
"He would have been 100 this year. I'm doing 'The Train' as a tribute to him, (as it) was his signature piece. He did this piece over 1,100 times in his career,"
Tempe artist Holly Schinellei brought her family to Chalk It Up. Her children and husband not only drew artistic creations, but also volunteered at the event. Schinellei normally works in glass, but also dabbles in street painting. In Prescott, she chalked a piece highlighting the medicinal powers of venom and toxins and the importance of maintaining a symbiotic relationship with nature.
"I (show) three desert animals that are all venomous at one end, which transitions to an ocean scene with three venomous ocean animals. Research has been done into how those venoms can help us," Schinellei said.
"I love this event and like the 'community feel' to it. I like that professional artists are working right next to 5-year-olds and 15-year-olds."
Artist Noami Foster from Aurora, Colo., who works in the graphic design industry, drew an image of a young child in shades of grey, with a splash of orange.
"This collection is all of children and the medium is in all different colors," Foster said. "I love Prescott and I love this chalk festival. The community is lovely and the weather is lovely."
Visit www.prescottchalkart.com or check out Chalk it Up Prescott on Facebook for more information.