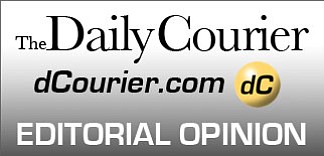 Originally Published: September 10, 2012 10 p.m.
Today we remember the innocence that was lost 11 years ago when planes crashed into the Twin Towers in New York City, the Pentagon in Washington, D.C., and into an open field in Pennsylvania.
Our lives changed forever because of those heinous attacks on our soil, leaving more than 3,000 people dead. Still vivid in our minds are the astonishing images of the World Trade Center crumbling to the ground, a gaping hole in the Pentagon, and the smoldering remains of Flight 93.
September 11, 2001, was, indeed, an apocalyptic day for the United States and its citizens who never dreamed something like this could happen to us in the land of the free and home of the brave.
And, the brave, we remember the passengers of Flight 93 who valiantly tried to thwart the aircraft's hijackers. We remember the men and women who died on those planes and in the buildings. We remember those too who toiled day after day to find survivors and remains among the twisted girders and wreckage.
We also remember the people who, for weeks upon weeks, yearned for word about their loved ones - posting photos on walls near Ground Zero, praying someone had seen them.
It all proved that this country is not immune from acts of hatred from our enemies and, at the same time, it was evidence that Americans are not thrown off balance very long.
After we wiped away the tears and moved past the denial, our resolve to remain strong came forward. We refused to submit to the enemy and rallied to help our stricken fellow citizens.
As we go about our day today, we also must stay as vigilant as ever and not allow fear to consume us. We must mourn the loss of so many innocent lives and remember them with heartfelt respect.
And, as we commemorate them in ceremonies across the land, the greatest tribute we can pay them is to hold tight to our determination for unity and to stay strong in our face-off with those who would seek to destroy us.
Some would say the terrorists have already won. We say the dawn brings opportunity and resolve in America.
Never forget.