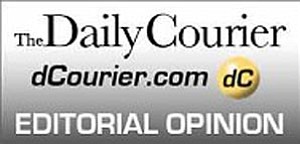 Originally Published: October 17, 2012 10:03 p.m.
Preparedness, while sometimes misguided, can have its benefits.
Some of us still remember the drills decades ago at school in preparation for a nuclear attack. We were told only to get under our desks.
Others among us may recall what it was like at school and at home to go to the basement or cellar when the tornado warning sirens sounded. As has been proven time and again, when the real thing happened, the sirens more often than not rang out too late.
And, while those examples conjure up memories that leave us scratching our heads at the ignorance of the drills, other preparedness drills have good intentions that will elicit excellent results.
Today at 10:18 a.m. state officials hope to get 50,000 residents to participate in the "Great Arizona Shakeout," which the Courier told you about on Tuesday. This drill, dubbed "Drop, Cover and Hold On," takes about two minutes and is training for an earthquake. The idea is to drop to the ground, take cover under a sturdy table or desk, if possible, protecting your head and neck, and hold on until the shaking stops.
Several Yavapai County school districts will be participating in this year's earthquake drill, emergency management officials said, adding that others - such as businesses and government agencies - also should participate.
It would be good to have such a plan, knowing that last year the Arizona Broadband Seismic Network recorded 131 earthquakes in our state. The largest, at magnitudes 3.6 and 3.7, occurred near Clarkdale. In Yavapai County, the largest fault is the Big Chino near Paulden that created the Big Chino Valley and its deep aquifer. It could produce a magnitude 7.0 quake, a new booklet from the Arizona Geological Survey says.
Evidence of local quakes can be found in one that struck on Oct. 25, 2011. When a 3.2-magnitude earthquake struck the Paulden area, people felt it in Prescott about 30 miles away. While it didn't cause any reported damage, it scared quite a few people. Court proceedings came to a sudden halt on the fourth floor of the Yavapai County Courthouse when the top floor shook violently.
Considering that the Arizona Geological Survey predicts the possibility of quakes locally as strong as 7.5 magnitude, knowing what to do is paramount.
To sign up for today's drill, visit shakeout.org/Arizona, which includes a host of information.