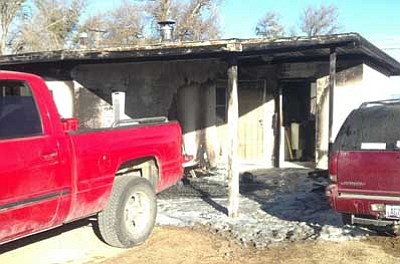 Originally Published: November 23, 2012 noon
Chino Valley firefighters put out a fire that started early Thursday morning in the carport of a home on Bacon Lane, preventing it from spreading to the rest of the house, Chino Valley Fire District Battalion Chief Garry Young said.
Residents relocated early Thanksgiving morning after the fire caused significant damage, said Rob Zazueta, spokesman for Chino Valley Fire District.
The fire burned the carport, electrical meter box, and caused enough smoke damage inside the home to make it uninhabitable until building inspectors investigate, Zazueta said.
Trauma Intervention Program volunteers and the Chino Valley Firefighters Foundation helped the family as they made plans to stay with other relatives, Zazueta said.
Chino Valley Police Department also was on scene to secure the property, Zazueta said.
More like this story