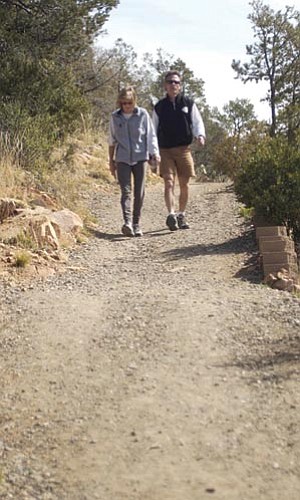 Originally Published: May 31, 2012 9:04 p.m.
Perched atop sprawling branches of art, entertainment and sports, we native Prescottonians, snowbirds and transplants alike enjoy cinematic panoramas of the city. But no matter how splendid our vantage, Chris Hosking suggests not nesting too long.
"You get a whole different take on Prescott when you get out on the trails," said Hosking, a trails specialist with the city government. "You hear something other than traffic noise, and you're off your feet, getting your heart rate up - it's exercise."
As area hikers prepare for events this weekend celebrating National Trails Day, Hosking stressed the variety of hiking experiences in the 40-plus miles of trails in Prescott's proverbial backyard.
Looking for a big, wide, flat trail? Hosking recommended Prescott Peavine National Recreation Trail. It's a hair more than five miles and follows the former route of the Santa Fe Railway. Take Arizona Highway 89 to Prescott Lakes Parkway then to Sundog Road to get there.
Looking for narrower fare? Hosking recommended the trails around Willow and the Watson lakes. The former is three-and-a-half miles and is accessible from Heritage, Willow Lake and Willow Creek parks. The latter connects to the Peavine Trail, used to be one mile and is scheduled to open as a full loop soon.
"Once we get the Watson loop finished, it'll be five miles around, Hosking said. "I really think it's going to be one of the our classic trail systems."
Prescott also offers trails through rougher terrain, including three miles of Willow Dells Slickrock Trail Loops, which rim the north edge of Willow Lake.
"We've also got more workout trails, like Pioneer Park Trails," Hosking said, alluding to a series of color-coded trails, ranging from roughly one-and-a-half miles to six miles. Those trails are across from Commerce Drive from the Pioneer Park fields.
A larger, perhaps looming accomplishment, Hosking said, is the looming 50-mile Prescott Loop Trail, conceived in the 1990s.
"It really showcases what Prescott's about and connects all of these trails and local landmarks," Hosking said. "The Forest Service is working on their end, and they're almost done and I'd like to see the whole thing finished in the next couple of years."
In the interim, there are plenty of other options to consider, some just outside the city, others further away.
"We usually send people to Granite Mountain or Watson Lake," said Raigan Fundalewicz, co-owner of The Hike Shack in Prescott. "Personally, I like the Peavine Trail because you can always go off the little branches, and there's always something different to see."
As a Prescott native and the mother of two children, Fundalewicz has revisited many of the same hiking spots again and again.
"It's not boring at all, though, it's fun," she said. "You see different animals, the light strikes things differently - there's always something new to see, always something a little different."
The trails around Lynx, Watson and Goldwater lakes rank among her favorites. Recent fire activity afforded her and her brood a rather novel take on one site.
"Up in the boulders, that's fun, and there's a tree house up there, so my kids were in heaven," Fundalewicz said. "And then we saw that firefighters out there, doing their thing at the lake, and that was amazing. That was something different."