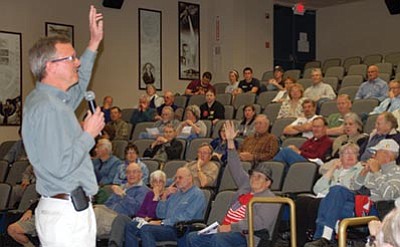 Originally Published: March 28, 2012 9:56 p.m.
PRESCOTT - Nearly 100 people turned out for a detailed presentation about Prescott's weather Tuesday evening, taking advantage of the opportunity to ask experts about everything from monsoon forecasts to cloud seeding.
One person in the audience asked why it is so hard to forecast out just a week in advance.
"Quite frankly, weather is complicated," National Weather Service meteorologist Darren McCollum answered.
The Weather Service found it relatively easy to forecast the St. Patrick's weekend storm, however, since it was so huge. It was issuing widespread public notices about the storm four days ahead of its arrival.
Ten meteorologists from the National Weather Service office in Flagstaff/Bellemont and the Embry-Riddle Aeronautical University (ERAU) Meteorology Department in Prescott were there to answer questions Tuesday at ERAU.
The Prescott region is the largest population center that the Weather Service office in Flagstaff serves, its Meteorologist in Charge Brian Klimowski said.
"What we're really here for are high-impact events," he said. "It's our job at the National Weather Service to make sure everybody's prepared."
One high-impact event unfolded right outside their window in Bellemont on Oct. 6, 2010. Two tornadoes tracked within a few miles of their office. At least 11 tornadoes struck the region that day, making it the largest recorded tornado outbreak west of the Continental Divide in recorded history, Klimowski said.
The Weather Service and ERAU gave several PowerPoint presentations Tuesday with details about Prescott's climate and severe historical weather events in northern Arizona.
ERAU Meteorology Professor Curtis James' PowerPoint presentation featured some of Prescott's more extreme weather events, including the snowstorm of December 1967, the flood of September 1983, the windstorm of December 2009 and the flood of January 2010.
The presentations made it clear that, although Arizona can experience long periods of sunny weather, it also has its share of extreme weather events and widespread precipitation variations because of its diverse ecosystems.
The St. Patrick's Day weekend storm was no exception. It produced just a few inches of snow in some areas around Prescott, and as much as three feet in the south-southwest fringes of the city. The average snow depth was 16-21 inches in the city, James said. If the storm started with snow instead of rain on St. Patrick's Day, it could have produced yet another foot of snow.
Areas on the windward side of storms will get more precipitation, ERAU Meteorology Chair Mark Sinclair said.
His presentation featured a map showing how Crown King at the southern tip of the Bradshaw Mountains averages 24-28 inches of precipitation annually, while Prescott gets 16-20 inches and ERAU on the flatter northern tip of Prescott gets 12-16.
Prescott averaged 33 inches of snow in 1915 but it dropped to 14 inches by 2003, Sinclair said.
"This decrease in snowfall should be of great concern to us," he said, noting how snow is more beneficial than rain because it slowly melts into the soils and aquifers over time.
Arizona winters average about three degrees warmer than they did a century ago, Sinclair said.
Global warming is part of the reason, but the northern shift of the jet stream and land development also are factors, Sinclair said.
La Niña has been a huge factor in the relatively dry winter northern Arizona just experienced, Sinclair said.
Many scientists believe that the region is about halfway through a 30-year period of strong La Niña weather patterns that is related to the Pacific Decadal Oscillation.
More like this story