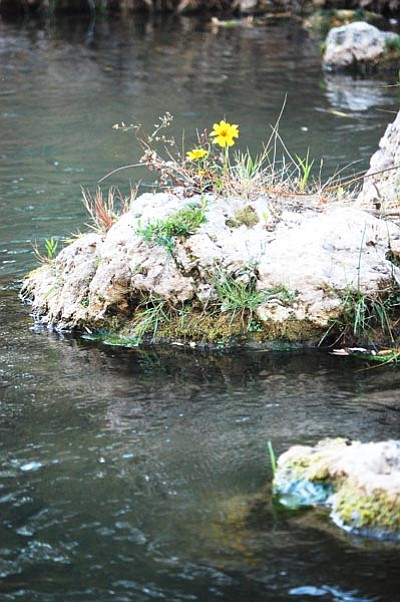 Originally Published: June 6, 2012 9:58 p.m.
The Grand Canyon Chapter of the Sierra Club has released its "State of the Verde River" report, summarizing the results of five years of volunteer water quality monitoring by the Arizona Water Sentinels program.
The Arizona Water Sentinels is a grassroots program within the Sierra Club that engages approximately 200 volunteers who like to "get their hands dirty and their feet wet" while doing hands-on conservation work to protect local streams in Arizona.
Water quality data summarized in the State of the Verde River report were collected from December 2006 through December 2011.
For other Water Sentinels monitoring results and to view a copy of the full report, go to arizona.sierraclub.org/conservation/water/index.asp.
The volunteer monitoring effort focused on E. coli bacteria, total arsenic, total nitrogen, total phosphorus, and suspended sediment concentrations of the river. Water Sentinels also made field measurements of basic water chemistry and physical parameters of the river, including dissolved oxygen concentration, pH, electrical conductivity, total dissolved solids, and water temperature.
"Over the last five years, Arizona Water Sentinels have volunteered hundreds of hours of time, collected more than 600 water samples, filled a multitude of bags and dumpsters with trash, and measured river flows at six to eight different sites along the upper and middle Verde River," said Steve Pawlowski, Sierra Club Water Sentinels program coordinator. "The good news is the Verde's water quality is generally good. The bad news is there are still significant threats to maintaining the perennial flow of water in the river."
Water Sentinels data on microbiological water quality indicate that the river is safe for swimming and water-based recreation such as kayaking, canoeing, and tubing.
At least one site, near Clarkdale and Cottonwood, has shown several violations of the state water quality standard for E. coli bacteria, however. For that reason, the Sierra Club is recommending additional and more frequent bacteria monitoring in that area.
Total arsenic concentrations meet applicable surface water quality standards for the Verde River but routinely exceed the Maximum Contaminant Level (MCL) for arsenic in drinking water recommended by the U.S. Environmental Protection Agency.
These elevated arsenic concentrations in the Verde River are thought to be due to natural causes relating to the geology of the Verde River watershed.
"Because arsenic levels in the Verde exceed drinking water standards and because of the geology of the area, Water Sentinels recommend that residents of the Verde Valley who rely on wells for their drinking water have their well water tested for arsenic to determine whether it meets drinking water standards," Pawlowski said.
The Arizona Water Sentinels focused its efforts on the Verde River due to potential threats posed by groundwater pumping from communities such as Prescott and Prescott Valley and the significant development occurring in the watershed, as well as the importance of this perennial river to the people of Arizona and the diversity of plants and animals it supports.
More like this story