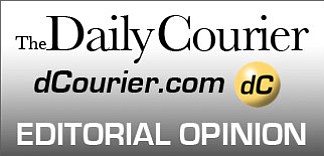 Originally Published: June 2, 2012 10:02 p.m.
Nothing certain but death and taxes? How about when one meets the other in the so-called "death tax," which currently applies to estates larger than $5 million?
Problem is the estate tax varies - or changes - and is set to revert next year to a $1 million threshold.
Now consider the economy. Stocks on Friday tumbled on a weak jobs report, and the small businesses that can provide jobs are the backbone of this country. They also, however, are the very entities that would suffer under a low "death tax."
"If the estate tax reverts to the ($675,000) levels of 2000, my estate would be severely impacted," said Michael Flesher, who owns a rental business in Vestal, N.Y. "That could mean that 16 good people who have given our company many years of service would no longer have a job."
There it is. Trickle down, trickle up - it does not matter what you call it. The uncertainty of the death tax is killing us.
Rep. Joe Walsh, R-Ill., said he would rather do away with the estate tax entirely than "play that game" of trying different solutions to fix it. Most of his colleagues on the House Small Business Committee's Subcommittee on Economic Growth, Tax and Capital Access agreed, according to The Associated Press.
Many of the witnesses at the committee's Thursday hearing said that, if not eliminated, the tax should at least be kept at the higher $5 million threshold.
Now for the other side to this: the federal government depends on the death tax, considering it brought in $69 billion in 2010. The need for the money raised by the estate tax exists.
Solutions include dropping it slightly, to about $3.5 million, which would "exclude most small businesses," one witness told the committee.
Walsh asked why the tax is even needed, given the problems it causes people and the relatively small share of the federal budget it accounts for. "The amount of money that the government raises on this tax is not a large amount," he said. "But the headaches that we put people through to do it are amazing."
The bottom line is we need consistency and clarity as much as anything else. The constant changes about who is exempt and who is not make it hard for people to plan.
Like one witness said, "Whatever Congress decides, stick with it."