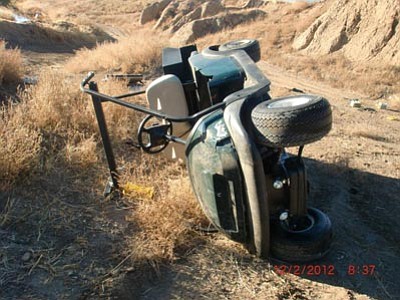 Originally Published: December 5, 2012 9:55 p.m.
DEWEY - Despite efforts to stop a rash of electric cart thefts at the Prescott Country Club, thieves cut into a fence and took another one for a joyride over the weekend, leaving it in the Agua Fria riverbed near Quailwood Estates in Prescott Valley.
This time, though, the Sheriff's Office has suspect descriptions, said spokesman Dwight D'Evelyn.
It's been an ongoing issue, with some carts stolen from Quailwood and others from the country club, D'Evelyn said. Deputies believe the thieves are starting the carts with duplicate keys, he added. The carts have been recovered with structural damage from having been driven off-road.
The golf course greens have also been damaged because the grass was frosted over when the suspects drove on it.
But on Dec. 2, residents in the 10900 block of Singletree Trail told deputies they'd seen two suspicious males in the area about 5:30 a.m. That's one of the times of day that deputies suspected the thefts were occurring, D'Evelyn said.
One suspect is about 6 feet tall, was wearing a dark blue jacket, dark green pants, a black stocking cap, and carried a knife in a sheath on his right thigh, The second is slightly shorter, was wearing dark clothes and a jacket. Deputies recovered burglary tools and other evidence from the area.
D'Evelyn said they are asking anyone who sees anything suspicious to contact YCSO immediately. Call 911 or YCSO at 771-3260 or make an anonymous call to Yavapai Silent Witness at 800-932-3232.