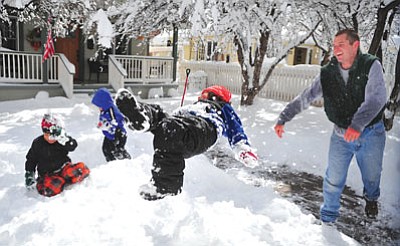 Originally Published: April 2, 2012 9:57 p.m.
Prescott exceeded its average precipitation in March, thanks to one huge winter storm.
The St. Patrick's Weekend storm tally at the official Sundog measuring site on the northeast side of the city was 2.07 inches of precipitation from 10 inches of snow, although the National Weather Service estimated that most of Prescott received at least 16 inches of snow and some parts recorded as much as 21 inches of snow.
Based on an estimated 16 inches of snow on March 18, the Weather Service said earlier this month that the storm produced the fourth-highest daily snowfall since Prescott records began in 1898. For most of those years the weather was recorded in downtown Prescott, which is higher in elevation than the Sundog wastewater treatment plant along Sundog Road.
March's 2.07 inches of precipitation at Sundog is 122 percent of the long-term March average of 1.7 inches of precipitation.
The average high and low temperatures for March were about one degree above normal at Sundog.
However, a record-warm March blanketed two-thirds of the country, the Associated Press reported Monday.
Sites throughout the country broke or tied at least 7,733 daily high temperature records in March, according to the AP analysis.
The last time such a heat wave hit the country was 1910, said National Oceanic and Atmospheric Administration meteorologist Martin Hoerling. NOAA nicknamed it "Meteorological March Madness."
A persistent warm wind was pushing north out of the Gulf of Mexico, NOAA said.
Chicago recorded eight days over 80 degrees when that kind of heat doesn't usually arrive until late June in the Windy City.
Wind gusts hit 40 mph at the Prescott airport Monday. The Prescott forecast is calling for mostly sunny skies through Friday, with temperatures ranging from 65 degrees Friday to 72 degrees Wednesday.
Despite the huge March storm, nearly all of the Southwest remains in the grip of a drought. January and February precipitation was well below average in Prescott.
The influence of La Niña is supposed to wane this month. It tends to bring warmer, drier winters to the Southwest.
The spring forecast is calling for above-average temperatures but equal chances of above-average or below-average precipitation.
More like this story