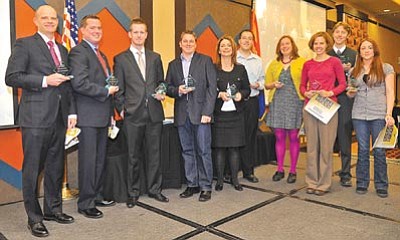 Originally Published: September 10, 2011 10 p.m.
Members of the Prescott Area Young Professionals group are preparing to recognize people with strong leadership skills in the tri-cities.
Group members will select as many as 10 young professionals in the community as part of PAYP's Visionary Awards - The Next Decade of Leadership.
The group focuses on 21- to 40-year-olds and is an affiliate organization of the Prescott and Prescott Valley chambers of commerce.
The awards highlight young men and women who are poised to take prominent roles in their industries and the Prescott area over the next decade.
"We want to show Prescott is a vibrant community for young professionals," said Steve Gushue, a geographic information systems specialist with the City of Prescott and social/media chairperson for the group.
Nominees then have until Oct. 15 to turn in their applications, and the group will announce the winners at the Prescott chamber's annual meeting next January.
Gushue said young professionals are welcome to nominate themselves, and they do not have to be PAYP members. He said the awards shine a light on people in the business and nonprofit communities.
"This type of opportunity is important to cultivate and showcase people who continually contribute in the community," he said.
Mike Sarti, vice president of commercial banking at National Bank of Arizona and vice president of the group, agreed with Gushue.
"We really want to highlight the talents of the young professionals in the tri-cities," he said.
The group, known first as Prescott Young Professionals, began as an affiliate of the Prescott Chamber of Commerce in 2009 and became an affiliate program of the Prescott Valley chamber this year in order to broaden its scope.
The name change showcases the talents of young professionals on this side of Mingus Mountain and brings them together for networking, social gatherings and community service.
The Prescott chamber's annual meeting this past January formally announced the first Visionary Award winners. Those winners include Certified Public Accountant Matt Holdsworth, business owners Damon and Kathryn Sage, and city councilman-elect Charlie Arnold.
The group has 65 paying members and Gushue said it has 140 followers on social media.
For more information, call Sarti at 708-6930, visit www.prescottareayp.org, search for Prescott Area Young Professionals on Facebook, and follow the organization on Twitter @prescottareayp.
More like this story