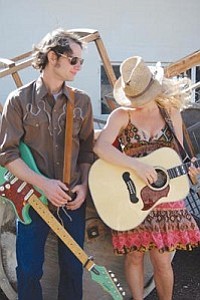 Originally Published: October 6, 2011 6 p.m.
PRESCOTT - Stephanie "Steph" Griffin and Bobby Bennett hail from neighboring small towns in Ohio, and use the word "simple" to describe their "indie country" sound.
"We're simple people, and that is reflected in our music, too," said Griffin, who along with Bennett form the duo Here Come Cowboys. Griffin, 29, grew up in Wooster, Ohio, and Bennett, 26, was raised in nearby Ashland.
The word simple might apply in the sense that they do not use synthesizers. It does not reflect the fact that they were classically trained and know how to read and write music.
Bennett said indie country applies to their sound "because I think we have country in us. The lyrics and spirit of all our songs are country. I think we are doing something that is different and is fresh, so we call it indie country."
They have written about 14 songs, and a number of their songs deal with themes of leaving or roaming, Griffin said. Song titles include "One Sad Eye" and "I'll Be Home Before You Know."
They have covered songs by Gillian Welch and Townes Van Zandt.
Bennett said he and Griffin listen to all kinds of styles, adding, "We were both trained in classical and jazz music."
Griffin interjected, "That is woven into our music. We could trot out some names."
Bennett commented, "I could tell you what is on my Pandora (personalized Internet radio) right now." He mentioned the bands Lucifer, Wilco and Uncle Tupelo.
Bennett was vague when it came to describing the audience for Here Come Cowboys, which derives its name from the 1980s band Psychedelic Furs.
"Everybody," he said. "I'm serious. I think there is something in our music that everyone can appreciate."
Here Come Cowboys has performed at The Raven Café in downtown Prescott and Pony Espresso in Prescott Valley and is lining up more gigs.
Pony Espresso part-owner Cathi Fitzpatrick said, "They are a really good, young energetic band. They just have a great sound. It's like Americana country, like old-time country. It's kind of their own music. They work really well together."
Fitzpatrick said Griffin has played banjo, trumpet and guitar during gigs, and described her voice as "kind of high. She just has her own sound. People stop when they hear her. ... She has kind of got a twang. Her voice is unique."
Griffin said she has played professionally since attending the Baldwin Wallace Conservatory of Music in Berea, Ohio. She switched from classical jazz to indie country about eight years ago. She also taught in public schools in Ohio for five years.
She and Bennett met about a year and a half ago while she performed at gig in Wooster.
"Steph was playing, and I wanted to learn her sound," said Bennett, who has played guitar since the age of 15. "I invited her to join us. I was running an open mic in Ashland.
Bennett and Griffin have been a couple ever since, and decided to head west. Griffin said she chose Prescott because her best friend and bassist, Meg Dixon, lives here.
Griffin said she landed a job as a music specialist at Skyview School before moving to Prescott more than a year ago. Bennett, teaches private guitar lessons.
They live in a home on a dirt road in the Granite Dells, and are focusing on getting more gigs. Here Come Cowboys is scheduled to perform from 6 to 9 p.m. Oct. 15 at Quince Grill & Cantina in Jerome; at 7 p.m., Oct. 19, at Coyote Joe's in Prescott; and from 7 to 10 p.m., Oct. 22, at Pony Espresso.
The duo had released a demo CD, and plans to record an album this year and tour in 2012, Bennett said. He added he and Griffin would like to tour New Mexico, Utah, Colorado and "maybe stretching to California."
To hear their music, log onto their Facebook page, www.facebook.com/herecomecowboys.