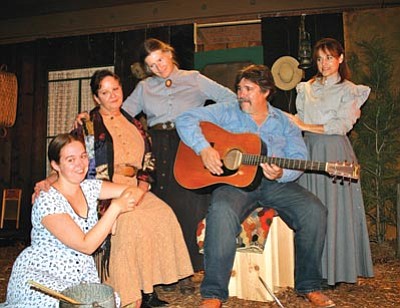 Originally Published: June 15, 2011 9:36 p.m.
"New Beginnings," an original historical play illuminating the human side of the severe water shortage in the 1920s, opens 7:30 p.m. Friday at Sharlot Hall Museum's Blue Rose Theater.
The play, written by Randi Wise and Jody Drake, is rich with tales of the trials and tribulations faced by residents of the time. This warm, human story of the Bennett family takes place the night before the family is forced to move from the area that is to become Goldwater Lake. The Bennett women are packing and talking about life in 1920s Prescott. The play is full of the spirit and history that makes Prescott what it is.
The play is the latest in the Blue Rose Theater's "Ladies of the Garden" series, which has been an annual show at the museum for 12 years. The characters and their stories are taken from Arizona territorial women honored in the museum's memorial rose garden.
Performances of "New Beginnings" are set for 7:30 p.m. Friday; 2 p.m. and 7:30 p.m. Saturday; 6:30 p.m. Thursday, June 23; 7:30 p.m. Friday, June 24; and 2 p.m. and 7:30 p.m. Saturday, June 25. Advance tickets are $10 ($8 for museum members) and $14 at the door. Call 445-3122 for tickets and information. Sharlot Hall Museum is located at 415 W. Gurley St. in Prescott