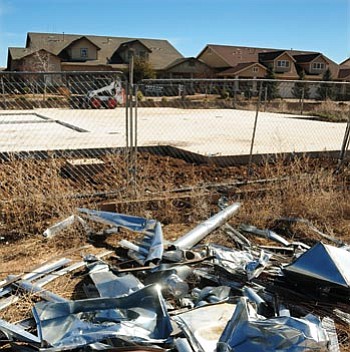 Originally Published: January 26, 2011 9:55 p.m.
PRESCOTT VALLEY - The Community Development Department ordered the demolition of an unfinished townhouse and two-story home in the Quailwood subdivision, and a Phoenix-based contractor is going about that work.
The town ordered the demolitions because the unfinished homes amounted to a health and safety hazard, Community Development Director Richard Parker said. Quailwood's developer, Empire Residential Construction LP of Ontario, Calif., did not complete the homes in the 1,800-lot subdivision off Highway 69 and Bradshaw Mountain Road because the company went belly-up.
The demolition project would have amounted to the first time in the 15 years that Parker has been on the job in which the town planned to demolish homes on its own, he said. In fact, Community Development solicited bids in September.
However, Parker said the bankruptcy trustee agreed to take over the project. The trustee did not do so, and the bankruptcy court receiver assumed the task by hiring Imperial Excavating of Phoenix to do the demolition work.
Parker said he issued a permit for the demolition Jan. 18. A crew from Imperial Excavating began tearing down the townhouse at the corner of Fuego and Cortina streets this past Friday and finished it Monday.
Imperial began work on demolishing a two-story home on Ceballos Court on Tuesday morning, said Shane Phelps, who operated a Bobcat Excavator.
Phelps said both the townhouse and single-family home were about 30 percent complete before he began demolishing them. A fenced-off area with mounds of dirt and a concrete pad is all that remained of the townhouse Tuesday afternoon.
His Bobcat removes wood and debris, Phelps said, adding tearing down the Ceballos house will be more "technical" because, unlike the townhouse site, it is next to other homes.
Neighbors of both homes said they were pleased with the demolition work.
Kathleen Hall expressed relief because she has been looking at the unfinished townhouse - which had a common wall - for four years.
"It was being vandalized," said Hall, a resident since 2007. "It was becoming hazardous. Things were being torn off the building. I heard some people hammering."
She continued, "It was a shell with windows. It did not have any roofing on it."
The incomplete home was "unsightly," Hall said.
Expressing a similar view, Brian Coelho described the structure on Ceballos as a "pretty big eyesore." Coelho, his wife and two children moved from Williams into the rental house a month ago.
However, Coelho, a recreational vehicle technician, was philosophical.
"I don't really think much about it," he said. "You see it on the news all the time."
He observed that another home on the cul de sac is incomplete, and said he hopes the wood from the structure that Phelps is demolishing will be recycled.
Phelps said some of the wood can be reused.