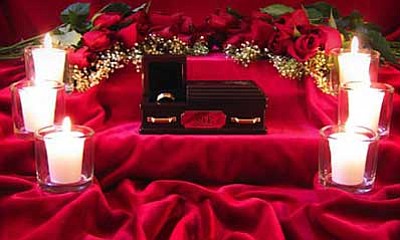 Originally Published: February 27, 2011 12:41 p.m.
Yes, there are trends in the death industry, and here are just a few to consider upon making your decision:
Pet Loss
Some funeral directors are now providing pet death care and pet grief counseling. There are others who own specifically pet loss funeral homes.
The Body
There are many different things you can do with the body, including donating your body to the Body Worlds Exhibit, or becoming a crash test dummy.
Green Burials
A new idea! Well, not really - it's a return to an ancient idea. No coffin, no chemicals, buried only three feet down with a natural marker, such as a stone or a tree. Some green graveyards will even give you the latitude/longitude coordinates.
It's Your Party
The Baby Boomer Generation is no longer accepting the norms as an "exit strategy." They want to have more of a personalized touch with a good-bye party atmosphere, sharing stories, pictures, maybe with some balloons and their favorite Jimmy Buffett music.
A-Wake
Some are choosing to hold their own funerals while still alive to socialize with your family and friends before you're gone.
Custom Caskets & Urns
Everything from airplane caskets with collapsing wings for burial, to candles made with the funeral flower arrangements that hold your cremation ashes.
Diamonds Are A Girls Best Friend
Have a diamond made from a lock of hair or ashes of your loved one.
Obituary
Obituaries are reading more and more like wedding announcements with a happier, celebratory vibe honoring your loved one's life and how they lived it.
Remember your family can only carry out your wishes if you previously told them what they are. If you want to end up being a diamond, and not in a candle, or you want to have a traditional wake in a funeral home and not a party on a ship, you have to let someone know!
More like this story