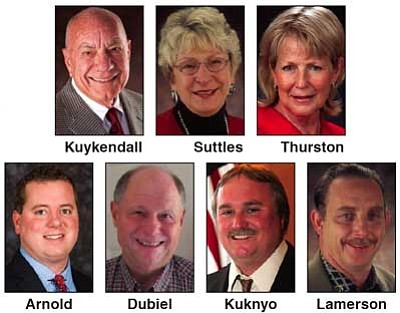 Originally Published: August 19, 2011 9:56 p.m.
PRESCOTT - With three fewer candidates this year, the campaign spending for the 2011 Prescott City Council primary is down by nearly $22,000 from the amount spent in the 2009 primary race.
The pre-primary campaign finance reports that were due at Prescott City Hall this week show that two of the three mayoral candidates and five council candidates (including write-in Robert Luzius) collected about $54,000 through Aug. 10, and spent about $44,000 of the total receipts.
That compares with the $76,000 that 11 candidates collected during the same time period in the 2009 primary season, and the $55,000 in campaign contributions in 2007.
With receipts of $18,380 and expenditures of $17,734, incumbent Mayor Marlin Kuykendall was the clear leader in both collections and spending.
Kuykendall's receipts compare with mayor candidate Mary Ann Suttles' $7,774 in receipts, and $4,731 in expenditures.
Mayoral challenger Deborah Thurston, who had initially filed a $500 exemption indicating that she expected to collect and spend no more than $500, later amended that with a statement of organization. By the close of business on Friday, Thurston had not yet filed her financial disclosure, and is subject to fines of $10 for each day she is late.
Thurston said late Friday that she had found a $10 error in the accounting of her finances, and planned to correct the error and file the financial disclosure on Monday. She said her contributions totaled less than $1,000.
In the race for the three open council seats, challengers Charlie Arnold and Chris Kuknyo were nearly even in receipts - with $11,749 and $11,719, respectively.
Arnold spent considerably more of his receipts to date, reporting $11,407 in total disbursements, compared with Kuknyo's $7,427.
Incumbent Councilman Jim Lamerson reported collecting $3,347 so far in the primary race, and spending $1,893.
Write-in candidate Luzius reported $1,255 in receipts, and $1,082 in disbursements.
At the start of his candidacy, council candidate Alan Dubiel filed a $500 threshold exemption statement, which exempts him from filing the individual financial disclosures.
With less than two weeks remaining until the Aug. 30 primary, candidates had until 5 p.m. Thursday to get their pre-primary financial disclosure forms in to the Prescott city clerk. State law limits the amount an individual can give a candidate to $430.
A breakdown of where the money came from and how it was spent:
Mayor race
• Kuykendall - along with lending his campaign $500, Kuykendall's top contributors ($300 or more) included retiree David Wollos, $430; lawyer Paul Roberts, $430; contractor Michael Fann, $400; real estate broker Elio Khalife, $430; retiree Tom Devereaux, $430; certified public accountant Victor Pereboom, $430; retiree Jim Lee, $400; retiree Linda Lee, $300; Scott Lee, manager of The Ranch subdivision, $300; rancher Ron James, $430; North Carolina homemaker Angela Tucker, $430; retiree Ben Andre, $300; landlord William Feldmeier Jr., $430; Mesa appraiser Mark Wirth, $400; and lawyer James Musgrove, $400.
In addition, Kuykendall received two in-kind contributions of $420 each from retiree Tonia Fortner for food for a fundraiser.
The bulk of Kuykendall's money went toward a combination of printing for yard signs and flyers, and defense of a lawsuit he faced in June over his nomination paperwork.
His disclosure form lists three payments of $1,500, $1,500, and $1,932 to Cantelme & Brown for "defend Wilson vs. Kuykendall." (The plaintiffs in the lawsuit were Elizabeth Wilson and Noel Breen). In addition, Kuykendall lists expenses of $1,176, $3,269, and $3,038 for yards signs and flyers, respectively, as well as expenditures of $508, $739, $745, for radio spots on KPPV, KAHM, and KYCA, respectively.
• Suttles - along with a total of $764 in loans to her own campaign to-date, Suttles' top contributors included Tamara Dickerson, vice president of business development for Screen FX Academy, $410; retiree Eric Bourden, $300; retiree Barbara Denny, $410; retiree Jeri Smith-Fornara, $410; the Avondale Professional Firefighters, $410; the United Flagstaff Firefighters PAC Fund, $410; and the International Association of Firefighters, $410.
Suttles' top expenditures included $660 for mailing; $541 for campaign signs; $680 for full-color postcards; and $408, $537 and $1,193 for advertising with KPPV/KQNA Radio, Great Circle Radio (Magic), and the Daily Courier, respectively.
Council candidates
• Arnold - along with a $2,182 loan to his own campaign, Arnold's top contributors included Paradise Valley homemaker Portia Erickson, $400; LifeLine Ambulance nurse practitioner Jimmy Smith, $430; LifeLine Ambulance CEO Cheryl Smith, $430; Banctron Corp. owner Rob Holladay, $430; A Garden Within manager Brooke Hampton, $430; homemaker Danielle Hampton, $430; Prescott Cardiology nurse practitioner Jennifer Kasprzyk; United Phoenix Firefighters, Tempe Chapter, $450; and Phoenix Firefighters Local 493, $430.
Arnold's top expenditures included $380 for shirts and buttons; a total of $840 for advertising on Arizona's Hometown Radio; $430 to Prescott eNews; $824 for advertising on KAHM Radio; $400 for marketing materials; $634 for mileage; and a total of $1,040 for professional services with Campaign Communications.
• Kuknyo - along with a $5,599 loan to his own campaign, Kuknyo's top contributors included El Mirage solid waste haulers Loreen Auerbach and Richard Auerbach, $430 each; retiree Ron Busse, $430; Fain Signature Group Partner Brad Fain, $430; Fain Signature Group Partner Jeff Wasowicz, $367; and medical director Ted Wickstrom, $430.
Kuknyo's top expenditures included $350 to the City of Prescott for a parade entry fee; $378 for campaign buttons; $1,078 for advertising with Magic Radio; $508 for advertising with KPPV Radio; $965 for advertising with KYCA/KAHM Radio; and $1,692 for signs.
• Lamerson - top contributors included business owner Nancy O'Brien, $300; business owner Patrick O'Brien, $300; and $450 from the Professional Firefighters of Arizona, Tempe Chapter.
Lamerson's top expenditures included $1,556 for advertising with the Daily Courier, and $300 for campaign brochure printing.
• Luzius - a total of 17 contributions, ranging from $30 to $100; none of $300 or more.
Luzius' top expenditures included $299 for postcards, $173 for stationary supplies, and $171 for buttons/advertising.
More like this story