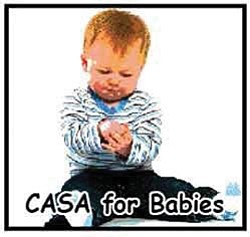 Originally Published: April 17, 2011 9:41 p.m.
A CASA (Court Appointed Special Advocate) volunteer is needed to serve as a "Baby CASA" for 11-month-old "Vince." Child Protective Services (CPS) removed the little boy from his mother due to abuse of illegal substances and the fact that she was only 15 years old and could not provide adequate care for her son. The father also was a substance abuser and has made no efforts to parent his child.
Among the Baby CASA volunteer's responsibilities: Monitoring Vince's progress in his foster home to help ensure that his needs are being met; assisting CPS in working with the parents to determine whether parenting classes and substance abuse treatment might result in either of them being able to parent their son appropriately; participating in monthly meetings with Baby CASA volunteers and other team members to discuss the boy's progress and ensure that he receives screening and services for age-appropriate developmental milestones and medical care; working with CPS to identify other relatives who might be able to assist either parent in their efforts to care for their son or to provide an adoptive home if necessary; and making recommendations to the judge as to the best long-term placement for Vince. CASA volunteers need to provide information to the court at report and review hearings throughout the life of a case.
If you are interested in becoming a CASA volunteer for this case or a similar one, and making a difference in the life of a child, please contact the CASA office at 928-771-3165.
More like this story