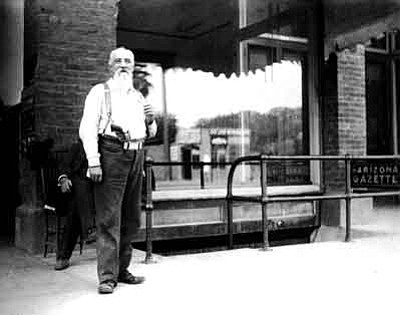 Originally Published: September 4, 2010 9:50 p.m.
Between 1876 and 1890, Prescott's first city marshal earned a reputation as one of the toughest marshals who ever lived in the West. Although James M. Dodson never garnered the fame of such lawmen as Wild Bill Hickok and Wyatt Earp, those who knew him considered him to be just as brave.
Dodson was born around 1842 on the family farm in Westport, Mo., the son of Verlina (Pitman) and Greenup Dodson. Genealogical records indicate that he was a great-grandson of American folk hero Daniel Boone. One account states that Dodson was born and raised in the same area as Frank and Jesse James. Dodson joined Quantrill's Guerillas in 1862 and remained in that unit until the end of the Civil War.
It is said that, because of Dodson, Prescott never developed into lawless chaos like other mining towns of the time. He handled matters in his own way while carrying a .45 Colt revolver in his belt, where it was in easy reach. He was never outdrawn in a gunfight.
Dodson's prowess with a gun as told by Mark Bradley: "One day I was shooting pool in one of the many pool halls in Prescott when our marshal came tromping in through the swinging doors. The fellow with whom I was playing pool drew a gun and started to fire at the marshal, but before he could fire, Jim Dodson put a hole through his head."
In October 1877, accompanied by newly deputized Virgil Earp, Sheriff Ed F. Bowers, U.S. Marshal Wiley W. Standifer and Constable Frank Murray, Dodson was involved in one of Prescott's most violent gun battles with two dangerous cowboys, John Tallos and Wilson, aka "Vaughn." They had been recognized by a local resident, Col. W. H. McCall, as being wanted in Texas for murder. He alerted the lawmen, who armed themselves and surrounded the duo on horseback near Granite Creek. Refusing to surrender, the outlaws opened fire on the lawmen and a shootout occurred. When the smoke cleared, the two outlaws lay dead. The highly publicized incident helped launch the law enforcement career of Virgil Earp, who remained Dodson's lifelong friend.
Two years later, in December 1879, Dodson, along with Sheriff Joseph R. Walker, legendary army scout Al Sieber and Thomas Simmons, tracked down and cornered two stage robbers who resisted arrest. A shootout erupted that resulted in the death of one of the bandits and successful capture of the other.
In April 1882 while patrolling Whiskey Row, Dodson was approached by Mr. Boyd, owner of the Keg Saloon, who informed him that a "disreputable character" named Joseph Banks was intimidating his customers and had threatened to carve up Mr. Boyd with his large Bowie knife. Dodson confronted Banks near the saloon and ordered him to surrender. Banks turned, faced the lawman and told Dodson that neither he nor any other officer could arrest him. He began throwing rocks and calling Dodson "the vilest of names." Dodson ordered him to surrender. Banks drew his knife and advanced. Dodson, whose patience had become exhausted, drew his Colt and ordered him to stop or be killed. Banks continued to advance, forcing Dodson to empty his revolver at him. It was later learned that Banks was wanted for killing a man in Leadville, Colo., and had committed other crimes in Yavapai County. He had made it known that he would kill the first officer who would attempt to arrest him.
Dodson spent over a decade as Prescott's city marshal. At the end of his career, a silver-mounted belt was presented to Dodson by the citizens of Prescott in appreciation of his many years of service. The belt had eight notches, representing the number of men he had killed in the performance of his duty.
After his retirement, Dodson moved to Yuma where he worked as a wall guard at the Arizona State Penitentiary. His skill with a rifle proved invaluable there on at least one occasion when a prisoner attempted an escape.
He spent the last years of his life in Phoenix where he died peacefully on May 10, 1907, at the age of 67, seated in the reading room of the Commercial Hotel, which was located on the corner of Central and Jefferson avenues. He is interred in Greenwood Cemetery.
An expanded version of this article and additional photos are available at Sharlot.org/library&archives/history/days past. The public is encouraged to submit articles for Days Past consideration. Please contact Scott Anderson at Sharlot Hall Museum Archives at 445-3122 for information.