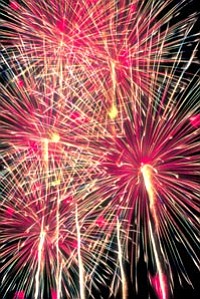 Originally Published: September 3, 2010 10:01 p.m.
PRESCOTT VALLEY - Town Council members want strict controls on personal use of fireworks, and they are willing to do battle with a fireworks industry lobby.
"Let the sparks fly," Councilwoman Fran Schumacher said Thursday, concluding a discussion at a work/study meeting.
The council is considering adopting an ordinance to regulate and possibly ban the personal use of fireworks within the town's boundaries, as opposed to town-sponsored public displays.
The council deliberations are taking place because Gov. Jan Brewer on May 10 signed a bill that allows the sale of "permissible consumer fireworks," including sparklers, effective Dec. 1. The new law also allows cities and towns in Arizona to regulate the use of some or all of the newly permitted fireworks within municipal boundaries.
Fire officials have criticized the law, fearing the personal use of fireworks could increase fire risks.
Charlie Cook, assistant chief and fire marshal of the Central Yavapai Fire District, appeared before the council with Colleen Auer, deputy town attorney.
Cook said fireworks industry lobbyists "are trying to follow me around from town to town." He added they are looking for loopholes in ordinances.
He provided a handout to the council to show what fireworks are now legal or remain prohibited.
Councilman Harold Wise commented, "I'm concerned enough about this I want us to do all we can legally to keep (fireworks) out of our community."
Cook said industry lobbyists have questioned a proposal to require fireworks vendors to obtain business licenses.
Auer said town officials want to display signs indicating no one under the age of 16 may buy fireworks.
Wise expressed concern that parents or other family members will buy fireworks while allowing their children to use them.
He inquired about imposing stiff fines for violators.
Auer said violators can face misdemeanors as penalties.
Councilwoman Patty Lasker said, "This is the craziest thing we have to deal with. Citizens are counting on us to make sure it is done right."
Councilwoman Lora Lee Nye commented, "This (law) is right up there with the stupidity of allowing guns in bars."
Vice Mayor Rick Anderson said he opposes any personal use of fireworks in Prescott Valley.
Auer suggested requiring vendors to have business licenses and limit the sales to certain areas of town.
Town Manager Larry Tarkowski suggested limiting sales to industrially zoned areas.
Cook said the state law is contradictory because it requires adult supervision of minors while allowing 16-year-olds to buy fireworks. He suggested increasing the age to 18.
Fireworks came up in a separate council discussion on alternative financing and sponsorships for New Year's Eve festivities this year. The town has budgeted $6,000 for a fireworks display for Dec. 31.
Nye suggested using the $6,000 for festivities for the Arizona Centennial in 2012.
"I'm serving on the centennial committee," she said. "We have no dollars."
Nye also called for bringing back excitement of having family-oriented events on New Year's Eve.
"We can in my opinion pull that off without the fireworks," Nye said.
Help may come from the Arizona Sundogs, which hosts home games on New Year's Eve in Tim's Toyota Center.
The Sundogs might recruit sponsors to pay for a bonfire, a band and interactive games for youths "and possibly the fireworks," Sundogs President Jerry McBurney said after the meeting.