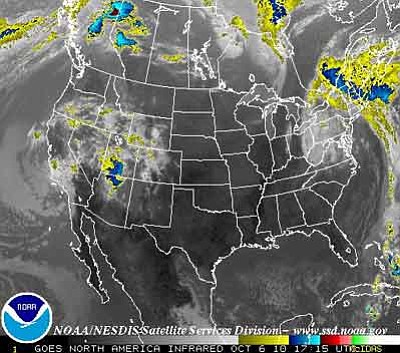 Originally Published: October 6, 2010 11:08 a.m.
YAVAPAI COUNTY - Yavapai County remains under a tornado warning until 11:30 Wednesday morning, according to the National Weather Service in Flagstaff, which had already tracked a tornado east of Dewey-Humboldt in the early morning hours.
The NWS issued the tornado warning for east/central Yavapai County, which includes the City of Sedona. South/central Coconino County, too, is under a warning, which includes Flagstaff.
At about 4 a.m. Wednesday, a northbound storm with winds gusting 50-60 mph, apparently formed a tornado east of Dewey-Humboldt and dissipated north of Cottonwood before re-gaining strength and wreaking havoc at Bellemont west of Flagstaff.
"The first warning was at 4:05 a.m. when the storm was just south of Cherry," said Darren McCollum, NWS lead forecaster. "Then it tracked along Highway 89A and dissipated."
Yavapai County remains under a hazardous weather alert, but county fire and police departments have not received any reports of injuries or damage from the tornado. The tornado in the Belmont area injured seven people, derailed a train, destroyed 30 mobile homes, and damaged roofs and buildings.
McCollum said that Tuesday's storm died during the night, but picked up again creating the high winds and weather conditions that resulted in the early morning tornado.
"The winds were gusting to 60 miles per hour, but then you have to take into account the rotation in the storm," McCollum said. "That produced a radar signature that told us a tornado formed. That was the same storm that did the damage in Belmont."
Tornados cycle in and out during large storms like the one that passed through the county, he added.