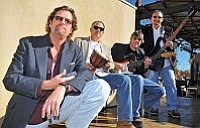 Originally Published: November 4, 2010 7:17 p.m.
PRESCOTT - After spending the past year "woodshedding" at gigs around the county, the Road 1 South blues band is ready to strut its stuff. The band is fired up.
"You bring your friends, we'll bring the noise, and together we'll bring down the house," said Gregson Gordon, harp player and band philosopher.
The band's coming-out party starts at 8 p.m. Saturday at the Raven Café, 142 N. Cortez St., in Prescott.
The band has been around for more than three years, and the current band members have been together for the past year: John Wurtz on guitar; Ron Green on bass; Gordon on harp; Dwight D'Evelyn on drums; and Ofer Harel on Latin percussion.
D'Evelyn and Green are veterans of the original band.
"The band's focus has always been blues," D'Evelyn said. "There's not a lot of good, classic blues around here. And the cool thing is, we're all local guys."
The band was in a stale funk and "winding down" when Gordon arrived from Florida one year ago and lit a flame under the band.
"The night he hit town, he walked into one of our shows to audition - Nov. 13," D'Evelyn remembers. "We went, 'Wow.'"
"It was Friday the 13th," Gordon added.
After getting settled, Gordon started networking with local musicians and bands, including Road 1 South.
"We courted each other. In fact, we first saw him in court," D'Evelyn joked.
"After our first rehearsal, it was like a fuse was lit and we knew we'd go off like a powder keg," Gordon said. "Well, the fuse has burned down and we're ready to explode."
When Green moved to bass, Wurtz took over guitar, and Gordon introduced his harps, "all the pieces fell into place."
"The band has a good groove and we want people to feel it," Green said.
The band's playlist in the past featured previously recorded known and unknown songs - a sort of blues cover set with a Road 1 flavor. The group's logo reads, "Rare Blues Well Done."
"We leave our fingerprint on every song we do," Gordon said.
However, Saturday's show for the first time includes some of Wurtz's original songs.
"I've always been into blues as far as my roots go," said Wurtz, who learned blues in Texas. "My original songs are more eclectic. Sort of like Frank Zappa meets Devo."
Each band member openly voices respect and admiration for each other's musical talent - especially for the two percussionists.
"Dwight and Ofer are the engine that drives Road 1 down the road," Gordon said. "Dwight's the dynamite and Ofer is TNT. When those cats in the rhythm section get going, the rest of us feel like we're hanging onto a runaway train."
D'Evelyn said that the band plans "some surprises" for the Raven audience.
"There's times to listen and times to get out and move and groove,' he said. "I promise we're coming out of the gate on fire."
"You'll get some high-energy fun, great blues, and have a good time," Wurtz said of the band's "debut" party.