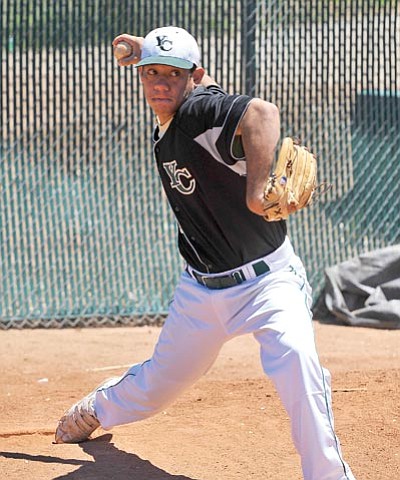 Originally Published: May 5, 2010 12:04 a.m.
PRESCOTT - He has been arguably the best closer in the National Junior College Athletic Association's Division I baseball division since he arrived at Yavapai College as a diminutive right-handed pitcher little more than a year and a half ago.
But for the 5-foot-10, 180-pound Pulama Silva of Kaneohe, Hawaii, the accomplishment is only one glorious part of a dream script in the making. Since his days as a kindergartner, Silva has wanted to pitch professional baseball.
This season at YC, the side-armed Silva, a slide-step pitcher, helped guide the Roughriders program to its third straight Arizona Community College Athletic Association regular-season crown.
Silva went 1-1 on the mound and notched 15 saves, good enough for second in the JUCO ranks. He also tallied 61 strikeouts and a miniscule 0.77 ERA. In 35 innings of work, he surrendered just three earned runs and 16 hits, walking 12.
Last spring, Silva led the nation with 17 saves in only 32 innings pitched. He had a 2-0 record and a sterling 0.84 ERA.
His presence has been felt far and wide.
"Pulama's huge. Leadership wise, he doesn't let anyone slack off in the dugout. It doesn't matter if we're up or down, he's always in it," Yavapai College starting pitcher Dustin Hobbs said. "Giving him just one run to work with when you leave, there's no pressure. You know he'll get the save."
Despite his successes, one won't find Silva, a 2010 first team All-ACCAC selection and second team All-Region I selection, gloating. He's simply confident in what he does.
"Last year, whatever my catcher gave me, I just threw," Silva said. "Now, I throw what I want to throw and what I feel comfortable throwing."
Silva will pitch for Division I University of Arizona in Tucson next spring - his goal since high school. He impressed the Wildcats coaches at a baseball camp there, but the program was not willing to offer him a scholarship at the time.
Nonetheless, all has worked out for the best. Silva will graduate from Yavapai this spring and head down to Tucson in the fall. Ironically, Silva's dad, Glenn, pitched for the University of Hawaii against Arizona in a losing effort during the 1978 College World Series. Glenn doesn't mind that his son wants to be a Wildcat, though.
"I fell in love with the area, the people and the school," Pulama Silva said of the U of A. "Every pitcher hopes to get drafted someday, and I'm no different. I have wanted to be a professional baseball pitcher since kindergarten."
***
Not since the Roughriders handed the ball to left-handed closer Derek Tarapacki - who was a sidearm wonder during the club's 2006 run at a Junior College World Series championship - has YC coach Sky Smeltzer had as strong of a late-innings reliever as Silva.
But Silva's pitching motion is even more unorthodox than his predecessor. His slider starts behind right-handed batters and sweeps into the middle of the strike zone. And his fastball is clocked anywhere from 86-88 mph, which one wouldn't think is all that impressive until one factors in its sinking action.
"He is talented, but his pitches are a gimmick," Smeltzer said. "As slow as his off-speed stuff is, it probably makes his fastball look at lot better."
Over the summer, Silva developed a change-up to complement his deceptive curveball with the help of former YC pitcher Merrill Kelly. This season, Silva's strikeouts to innings pitched ratio improved to almost 2-to-1. His non-stop work in the bullpen was the key.
"If it were up to me, I would throw a bullpen every day until my coaches stop me," Silva said. "I throw as much as I can in the days leading up to the game."
Another factor benefiting Silva is what Smeltzer calls the "rubber arm" factor. Silva can throw every day without much, if any, soreness.
"He can probably go two innings every day this weekend (of the playoffs), if not more," the coach said.
Earlier this season, Silva was injured for two weeks because of a sore right elbow and was forced to sit on the bench. But he didn't let that hinder him.
"If it were up to me, I wouldn't have rested at all - I would've come back the next day and started throwing," Silva said.
Doctors eventually gave Silva an MRI and found some old scar tissue on a ligament in the elbow that had healed from a previous injury suffered in high school.
"You could really tell the difference in our confidence level and mindsets when he's healthy," Smeltzer said of Silva's effect on the team. "And when he's not, we have a little dip there."
Added Roughriders infielder Cam Schiller, "It's awesome to have a guy like that in the pen because we have 100 percent confidence going into the last inning with any kind of lead."
When Yavapai claimed the runner-up finish at the JUCO World Series in 2006, the squad had solid starting pitching and a bona fide closer. But its middle relief was lacking.
This year, Smeltzer said the Roughriders have a legitimate bullpen with Parker Markel (2-3, 3.16 ERA), Riley Welch (2-2, 5.97) and Casey Upperman (7-2, 3.59) backing up the starters and setting the plate for Silva.
"We'll bring in Pulama in the seventh, eighth or ninth since he recovers so well," Smeltzer said. "I know he wants the ball. He wants to get out there."