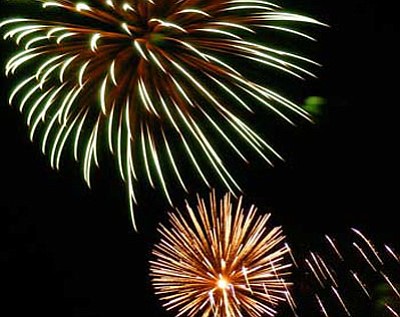 Originally Published: July 28, 2010 12:16 p.m.
Stopping everybody from using fireworks because a few people do stupid things does not sit well with a couple of Dewey-Humboldt town council members when they discussed a possible town ordinance that would control the use of fireworks.
Council heard from Central Yavapai Fire Asst. Chief Charlie Cook at the July 20 council meeting, and also from Sara Sparman of Williams and Associates, the firm representing the fireworks industry which supported HB 2246.
Council members Nancy Wright and David Hiles said they were not in favor of approving an ordinance that restricts actions of the residents on their own property.
"There's a big outcry in the community for less regulations," Hiles said.
Many rural towns are looking into prohibiting the use of "consumer fireworks" before the new law goes into effect on Dec. 1, mostly due to concerns over the fire danger in Arizona's dry climate. Cities and towns are not able to ban the sale of fireworks, only the use within town and city limits.
D-H Town Manager William Emerson said the council should look at an ordinance soon, because businesses need to know in advance in order to make purchases. The ordinance he brought before the council is a draft written by the League of Arizona Cities and Towns after extensive consultation with fire chiefs and marshals around the state.
The D-H version contains a number of policy choices regarding enforcement timeframes, the issue of civil versus criminal sanctions, signage, and exceptions.
Sparman said there was no opposition expressed when the legislators studied the bill in committee. Legislators did approve two changes, one extended the start date to Dec. 1, and the other allows the fire marshal to impose a $1,000 fine for each incident of prohibited use of fireworks on state land.
In a July 22 email, Sparman said the County Supervisors Association of Arizona opposed the 2009 bill, which the legislature did not approve. CSAA submitted language, which was added in its entirety to the 2010 bill. The language reads "and a county may regulate the use of permissible fireworks within the unincorporated areas of the county during times when there is a reasonable risk of wildfires in the immediate county."
Cook said the two weeks around the Fourth of July holiday are the most vulnerable times for wildfires.
Mayer Fire Chief Glenn Brown said Thursday that fire districts don't have the same prerogative as cities and towns to ban the use of fireworks in their jurisdiction.
"We'd like the same ability that cities and towns have to regulate the use," Brown said. "Especially for districts like us in Mayer, we have so much open land that, sure, it's a concern."
Councilwoman Wright pointed out the danger of restricting the use of fireworks in town, which could lead to people going off into "the boonies," and thus increasing the risk of fire.
Chief Brown agreed, saying "If you can buy them in Prescott but you can't shoot them off, where are you going to go? To an open area."
Councilman Mark McBrady suggested the Quad-cities work together with fire departments and have a specific time and place set aside for using fireworks.
"If you see people selling them, a sign saying 'Banned,' wouldn't be very effective," McBrady said.
Chief Tom Birch with the Black Canyon Volunteer Fire Department said he, too, has concerns about the new bill.
"I think the people who wrote this are looking at the fact that sparklers are harmless. They may seem harmless, but with some of the dry conditions and fine fuels we have, that little spark is all it takes," Birch said. "We've seen that time after time after time."
In an equestrian town like D-H, residents know that loud noises can panic their horses, which could lead to broken legs and other injuries. D-H resident Mel Scarborough said he is "totally, totally opposed to this law."
He told the council his neighbors shot off fireworks from the roof of their home towards his house two years ago, and refused to stop when he told them it was illegal.
"It makes no sense to put making money over safety," he said.
As of June 1, 2009, the U.S. Consumer Product Safety Commission reports that only five states ban all consumer fireworks.
The new Arizona law states that permissible consumer fireworks include "ground and hand-held sparkling devices, cylindrical and cone fountains, illuminating torches, wheels, ground spinners, flitter sparklers, toy smoke devices, wire sparklers or dipped sticks, multiple tube fireworks devices and pyrotechnic articles."
The law does not permit the sale or use of "anything that is designed or intended to rise into the air and explode or to detonate in the air including bottle rockets, sky rockets, missile-type rockets, helicopters, torpedoes, roman candles and jumping jacks."
At the request of council members and Sparman, Emerson will add the fireworks ordinance to the study session scheduled for Oct. 12 at 3 p.m.