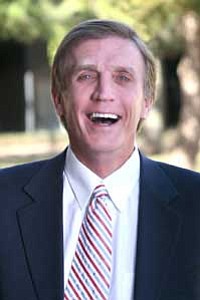 Originally Published: July 1, 2010 9:58 p.m.
HOLLYWOOD - God bless America, and how's everybody?
The FBI arrested 11 Russians in New York and New Jersey Tuesday for spying on the United States. The dragnet is still underway. Late last night Al Gore called Maria Sharapova from his massage table and told her he had atomic secrets under his towel.
Al Gore is in trouble after Portland police reopened an investigation into a Portland masseuse's sex assault complaint against him. She says she saved Al's DNA matter, which he left on her clothes. Bill Clinton may never speak to Gore again for doing his joke.
The London Sun said Monday that Elin Nordegren will get $750 million in her divorce from Tiger Woods. At last he can get back to golf. He's just hired a new swing coach who will teach him how to hit delete on his iPhone.
"The Twilight Saga: Eclipse" opened huge in movie theaters Wednesday. A Colorado woman said she crashed her Chevy because she was fleeing a vampire. People who don't drive Toyotas have to come up with original excuses for not hitting the brakes.
Elena Kagan wrapped up her Supreme Court confirmation hearing testimony Wednesday. She was careful not to risk revealing any of her personal opinions to any of the senators. Federal judge is the only lifetime job in government except for wife of Bill Clinton.
Elena Kagan said she thought a law requiring three fruits and three vegetables a day for everyone would be a dumb law. Most Americans can't afford three fruits and three vegetables. The only way you can get them for free is to bomb onstage.
Arizona Governor Jan Brewer slammed President Obama's new border security plan Monday as the new immigration law began scaring Mexicans home to Mexico. The governor has learned two things since this controversy erupted. President Obama supports illegal immigration and Kaboom does an incredible job of getting rid of bathtub grime.
© Copyright 2010 Argus Hamilton. All Rights Reserved.