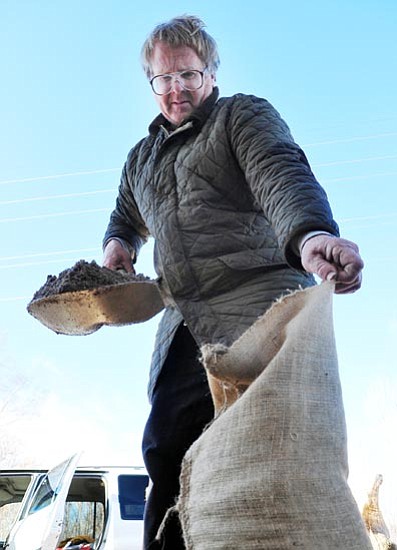 Originally Published: January 20, 2010 10:20 p.m.
The National Weather Service has issued a flood watch for Prescott and the rest of Yavapai County through Saturday morning as a powerful storm system moves into Arizona.
Three of the five areas most likely to flood in northern Arizona are located in Yavapai County: Prescott, the Verde Valley and Black Canyon City.
By Wednesday night, government forecasters were predicting that Granite Creek in Prescott would rise to its flood level of 11 feet, peaking around 1 a.m. Friday.
"People along Granite Creek and its tributaries (in Prescott) should absolutely be prepared to evacuate," said Darrell Willis, chief of the Prescott Fire Department's Disaster Preparedness Division.
Forecasters are calling for parts of the Middle Verde River and Oak Creek in the Verde Valley, as well as the Agua Fria River in Black Canyon City, to rise 11 feet above flood stages as record rains fall on areas already saturated by two smaller storms this week. Prescott already received more than an inch of rain in those previous storms, and Flagstaff already had two feet of snow.
The Verde, Oak Creek and Granite Creek all should crest during the dark tonight, making the situation even more dangerous.
This current storm could be as bad as or worse than the record February 1993 storm, said Brian Klimowski, meteorologist in charge of the National Weather Service office in Flagstaff.
That storm forced the evacuation of 250 families along a 26-mile stretch of the Verde River from Clarkdale to Camp Verde. The river was running at 63,000 cubic feet per second in Clarkdale and 105,000 cfs in Camp Verde, the highest cfs marks since records began in 1915.
Prescott officials evacuated 8 to 10 homes along Banning Creek during that 1993 storm, Willis recalled.
The current storm could produce 4 to 6 inches of precipitation in Prescott today and Friday before turning to 2 to 6 inches of snow here Friday, according to the National Weather Service. Higher-elevation areas will see several feet of snow.
The elevation where rain turns to snow is one of the hardest things to forecast about this storm, Klimowski said. The elevation will move up and down, and forecasters do know that at some point rain is likely to fall on snow and exacerbate the potential for flooding.
The storm front should pass through Prescott around midnight tonight, producing dangerous wind gusts as strong as 70 mph between 10 p.m. today and 2 a.m. Friday, Klimowski warned.
That means the area could lose electricity, and ponderosa pine trees could fall on homes as they did on Dec. 7 when gusts hit 74 mph.
After the peak of the storm passes, the storm should cool quite a bit and Prescott should start getting snow as the snow level drops to 4,500 feet.
This storm surely will place among the five most powerful storms on record in northern Arizona, Klimowski said.
"Nobody is going to be spared by this one," he said. "We're going to have a lot of precipitation over a very large area."
Klimowski is conducting rare daily conference calls with emergency officials and the media to accentuate the potential danger and get out accurate information.
Fire and rescue agencies will be closely monitoring stream gauges above Verde Valley communities so they can evacuate residents if they see dangerous spikes in streamflows, Yavapai County Emergency Management Coordinator Nick Angiolillo said.
Free sandbags and sand are available at Prescott fire stations on 6th Street, White Spar and Iron Springs roads.
More like this story