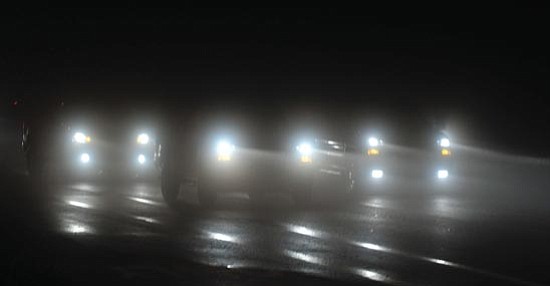 Originally Published: January 19, 2010 9:47 p.m.
Fire agencies throughout much of Yavapai County are stockpiling sandbags as forecasters warn the public that widespread flooding is imminent Thursday and Friday.
Prescott could get 3.5 to 4 inches of rain Thursday and Friday on top of more than an inch it already has received, said Dave Blanchard of the National Weather Service office in Flagstaff.
The forecast is getting more accurate for specific areas as the last and strongest of a series of three El Niño storms approaches.
The storm bull's-eye continues to focus on southern and central Yavapai County as well as northern Gila County, Blanchard said. But Crown King could get twice as much precipitation as Prescott, which is just 20 miles to the north.
Flooding is likely in some areas of Prescott as the last storm piles onto rain the city already received, Disaster Preparedness Division Chief Darrell Willis warned. He recalled past flooding along Banning Creek in the Haisley Homestead subdivision and along Willow Creek in the Jack Drive area, for example.
Once again, Prescott is on the edge of the areas that could get rain or snow. By Tuesday night, the Weather Service was predicting this city will get mostly rain, but outlying higher-elevation communities to the south and west could be trapped by several feet of snow.
If rain falls on snow, people in the Prescott area and elsewhere could see flash-flooding in streams and washes, too.
Parts of central and southern Yavapai County could receive up to 6-8 inches of new rain, producing flooding in the Verde and Agua Fria rivers as well as their tributaries.
"There are going to be areas that flood this time that haven't in the last several events," warned Yavapai County Emergency Management Coordinator Nick Angiolillo.
The county has received about 15,000-20,000 sandbags that have gone out to various local fire agencies. County and local emergency services personnel all are on alert.
The Weather Service and its fellow federal agencies are predicting that the Agua Fria at Black Canyon City could rise to 30 feet, and the flood stage is at 16 feet. The river hasn't reached 30 feet there anytime in the history of the river gage, which dates back to 1970.
"I'm just hoping people take it seriously," Black Canyon City Fire Chief Tom Birch said.
His firefighters were distributing flood warning flyers to residents near the river and its tributaries Tuesday night. More than 100 people live along the Agua Fria in this unincorporated southern Yavapai County community, and most of them live in trailers.
The Weather Service also is warning that the Verde River at Clarkdale could reach 24 feet, which is 10 feet above flood stage. That hasn't happened since the river flooded in February 1993. And Oak Creek at Cornville could rise to 16 feet, which is seven feet higher than flood stage.
Granite Creek in Prescott isn't forecast to go above flood stage, but Willis warns that people who must cross any creek beds to leave their homes might be trapped.
"We will go after people who go around barricades" where water is flowing over roads, Willis warned. The fire department will charge these people for the cost of rescues.
The forecast is calling for wind gusts as strong as 44 mph in Prescott, so Willis is warning that power failures could be widespread as trees and power lines fall.
He is asking residents to take advantage of the lull in storm activity this afternoon and stock up on emergency supplies.
"I'm suggesting people have a three-day supply of water, medicine and food," Willis said. One person needs about one gallon per day. People also should have AM radios and flashlights with extra batteries.
Prescott residents worried about potential flooding can fill sandbags at three fire stations - along White Spar, 6th Street and Iron Springs Road at Williamson Valley Road.