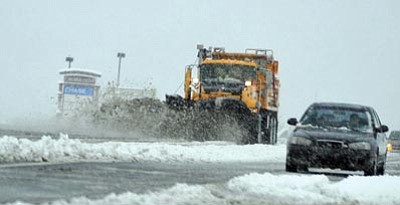 Originally Published: December 23, 2010 10 p.m.
El Niño drove a record storm system through Yavapai County and much of Arizona in mid-January.
Storm flooding took the life of 6-year-old Jacob Baudek when waters swept him away after his parents tried to drive across floodwaters near Mayer and got stuck. They were trying to get the sick boy to a hospital. Despite widespread flooding, he was the only fatality.
The Jan. 19-23 storm system produced the third-most precipitation of all storms over the past 112 years in Prescott.
The consecutive series of three pulses brought a total of 5.59 inches of precipitation to the official Sundog measuring site on the northeast side of the city.
The only stronger storms on record occurred on Feb. 14-22, 1980 (6.59 inches) and Feb. 11-19, 1927 (at 10.59 inches, although the National Weather Service notes that this number could have actually been even higher because of a measurement error).
The 2.97 inches of precip that fell Jan. 22 in Prescott also made the record books, placing 10th on the city's list of all-time wettest days since 1898.
Flagstaff's 54.2 inches of snow produced the second-most snow of any storm in its history.
WARNING TO PREPARE
Arizonans had plenty of warning so they could prepare.
By Friday, Jan. 15, National Weather Service meteorologists were warning Arizona residents that a major series of storms the coming week could produce flooding in lower elevations and heavy snow in the high country.
The following Tuesday the Weather Service issued a winter storm watch for Yavapai County, alerting central and southern Yavapai County residents they would be in the storm system's bull's-eye. Flooding was likely, they said, and Bradshaw Mountains residents needed to prepare to be snowed in. High winds also were in the forecast.
Local government agencies started passing out sandbags and making other preparations as the Weather Service warned the Agua Fria River could rise twice as high as its 16-foot flood stage in Black Canyon City, the highest in its 40-year history.
The Weather Service also warned that the Verde River in the Verde Valley could rise 10 feet above flood stage, something that had not occurred since serious Verde River flooding in 1993 forced 250 families in the Verde Valley to evacuate.
The Weather Service began conducting rare daily conference calls with emergency officials and the media to aid preparedness.
The Weather Service issued a flood watch on Wednesday, Jan. 21, noting the third and heaviest wave of the storm system would soon fall on saturated ground. The agency added Granite Creek to its list of potential flood areas, and warned any flooding would peak in the middle of the night.
Then came a winter storm warning Thursday.
FLOODING BEGINS
Prescott's mayor issued a local emergency proclamation Thursday.
Granite Creek already was flooding in the city, and at least 1,000 residents in the county were without electricity as snow and wind snapped power lines. Fallen trees and lines also forced the temporary closure of numerous Prescott streets, including major arteries such as Montezuma and Gurley.
The precipitation changed from snow to rain in areas such as Prescott, causing flood surges as the rain melted the snow.
Several feet of snow already had fallen in higher areas such as Flagstaff.
In Black Canyon City, emergency officials were warning trailer park residents along the Agua Fria to move their trailer homes to safety Thursday before the last and biggest storm wave hit.
The Verde Valley was spared from flooding because snow levels dropped quicker than forecasters expected.
Black Canyon City was not so lucky. Rescuers evacuated approximately 200 residents along the Agua Fria River in BCC at about 9 p.m. Thursday, with 85 checking in to the Red Cross shelter at the local elementary school.
The Agua Fria River crested there at 27.91 feet at 11 p.m. Thursday, a new record. Flood stage is 16 feet.
The Rivers Edge RV Park at the confluence of the Agua Fria and Black Canyon Creek was the hardest hit, with many homes 15-20 feet underwater before the floodwater receded.
The Black Canyon Fire Department used boats to rescue at least 18 people from the Green Valley, Indian Hills and Squaw Valley Parkway areas, and neighbors helped others.
On Friday afternoon, the state brought in a helicopter to drop 20-30 cases of water to residents isolated on the west side of Black Canyon Creek. The creek crossing was completely washed out.
Granite Creek in Prescott flooded to a record level of 13.3 feet Thursday night. Flood stage is 11 feet.
Although Crown King received one of the highest rainfall totals in the state, nearly 10 inches in two days, no one remained trapped by floodwaters by Friday afternoon, Fire Chief Steve Lombardo said.
The Fire Department did have to temporarily close the main, steep road into Crown King Thursday night when Poland Creek washed over it. The small, isolated community sits on top of the southern Bradshaw Mountains about 20 miles south of Prescott.
Firefighters didn't find any mudslide issues in the area where the Lane 2 wildfire burned near Crown King last year, Lombardo added.
Wind gusts hit 67 mph at the Prescott airport. Gusts in Yarnell to the south blew the entire roof off the Yavapai County Sheriff's Office substation, County Emergency Management Coordinator Nick Angiolillo said.
The county also temporarily lost its ability to take 911 calls for about an hour that Thursday night when Qwest lines went down, Angiolillo said.
Several Skull Valley residents without power came to a shelter at Yavapai College in Prescott that same night, Angiolillo added.
Major road closures from snow included Interstate 40, Interstate 17 north of Sedona and Highway 89A through Oak Creek Canyon.
About 45 people on the wrong side of Black Canyon Creek in Black Canyon City remained stranded for several days, so emergency officials had to helicopter in water and supplies.
And residents of the Rivers Edge RV Park who didn't move their trailers were without homes. The RV park, located at the confluence of the Agua Fria and Black Canyon Creek, was covered in deep mud and the county wouldn't let people return to try to live there until utilities were restored.
The municipalities of Prescott and Prescott Valley later received Arizona Department of Environmental Quality notices of violation because of sewage overflows during the storm.
Prescott's raw sewage flowed out of manholes into Granite and Miller creeks, while PV's wastewater treatment plant equipment malfunctioned and caused effluent ponds to overflow into the Agua Fria River.
Although the federal government denied the state's request for federal disaster aid for individuals, it granted aid to governments.
The U.S. Small Business Administration tried to help private citizens in July by offering low-interest loans to individuals and businesses affected by the storm system.