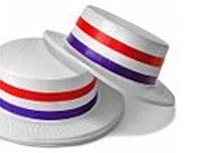 Originally Published: September 10, 2009 10:51 p.m.
The results of the City of Prescott's Sept. 1 Primary Election are official.
The Prescott City Council approved the official canvass Sept. 8.
City Clerk Elizabeth Burke said 13,771 residents voted in the vote-by-mail election for a 51.87 percent voter turnout. The ballot included the office of mayor and three council seats.
Voters elected Marlin Kuykendall as the new Prescott mayor with 7,365 votes.
Vote percentages were not sufficient to elect any of the eight city council candidates to a seat on the council. Burke said the top six vote-getters will appear on the Nov. 3 general election ballot. The top six vote-getters are John Hanna (5,917), Steve Blair (5,818), Tammy Linn (5,543), Robert Luzius (5,263), Bob Bell (4,765) and Michael Allen Peters (3,325).
Voters approved the question of providing a 0.75-cent privilege tax beginning Jan. 1, 2016, with a final count of 8,344 to 4,642.
Burke said Kuykendall and the new council members will take office at the final voting meeting in November.
IN OTHER ACTION, THE COUNCIL:
• Approved a Series 11 hotel/motel liquor license application from Danny Thomas for the Prescott Inn & Suites located at 4499 Highway 69.
• Approved a Series 10 beer & wine liquor license application from David Hallum for the Hallum Store located at 909 E. Gurley St.
• Awarded a $133,425 contract to Fann Environmental LLC for water meter installation services.