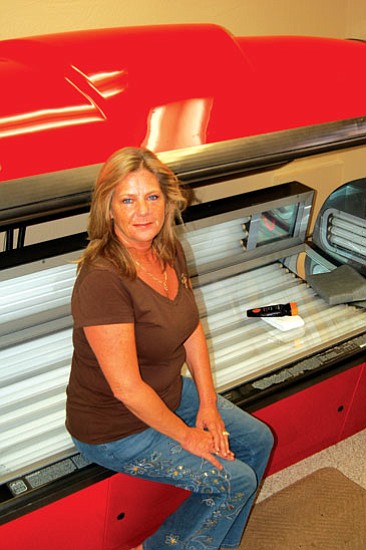 Originally Published: September 3, 2009 10:55 p.m.
Q & A with Beth Ashe, owner of Brown Buns Tanning at 8572 Highway 69 in Prescott Valley. The salon is open from 7 a.m. to 6 p.m. Mondays through Fridays and from 8 a.m. to 3 p.m. Saturdays. 772-4401.
Q: What is the service you provide?
A: "We have four tanning beds, two hairstylists and Angel Johnson does threading, which is a chemical-free way to remove (facial) hair.
"We sell tanning products and our hairstylists have many years of experience."
Q: How did you get into this business?
A: "There weren't any tanning salons in town - that's the main reason we did it. In September 2004, we opened here in Prescott Valley. We saw the need and decided to do it."
Q: What is the key to your business longevity?
A: "Loyal customers for sure, a clean shop and good employees. Tanning makes you look good and feel good. It helps clear eczema and the heat is good for arthritis."
Q: What's unique about your business?
A: "We have premium beds and great customer service."
Q: What's the best business advice you've received and given?
A: "The best business advice I've given and received is network with other local businesses and listen to your clients."
Q: What's something people don't know about you?
A: "I learned how to scuba dive two years ago. I'm very adventurous. I love crafts and decorating."
Q: How many hours a week do you work?
A: "I work 67 hours a week. That's too much."
Q: If you could take a week away, what would you do?
A: "I'd go golfing with my husband or find a remote island by myself, depending on the week."