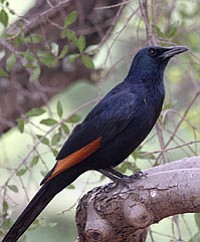 Originally Published: October 8, 2009 10:47 p.m.
Honestly, I do not know where to begin, so I guess I will just start at the beginning. I left Prescott on Sept. 26 on the 7 a.m. shuttle, and arrived in Johannesburg after 7 p.m. on Sept. 27. It was dark when I arrived, so I did no birding those first two days.
On Monday, Sept. 28, I flew out of Johannesburg to Maun, Botswana, and spent the night at a lodge in preparation for my birding safari, which officially began on Tuesday.
Of course, I didn't wait for the birding safari before I began birding! I birded in Johannesburg in the parking lot of the hotel; I birded on the hotel shuttle as it drove me to the airport; and I birded at the airport as I was waiting for my flight. I wasn't going to waste a minute of my time in a new location. I knew that every species I saw was going to be new, and I wanted to see and identify as many species as I could.
My first day in Maun, even before the safari began, I was already up to 60 species. It was very challenging, though, as I didn't know the names of any of the birds I was seeing. After seeing a new bird, I then had to stop and take time to look through the "Birds of Africa" field guide and identify the bird before I could move on to the next species.
The bird book has probably at least a thousand species or more, so finding the one bird that matched what I saw was challenging. Fortunately, while maybe I didn't know the name of the bird I was seeing, I am familiar enough with birds in general so that I could usually tell what family it was in and could go to that section of the book.
The similarities in some of the species here to the species that we have is quite remarkable. There is a family of birds here called babblers. There are many different species of babblers, and they remind me of jays in North America.
Another species that is similar is what they call starlings here. In America we would call them grackles. Every time I would see a starling, I would think, "There's a grackle."
Day four, Tuesday, Sept. 29, my birding safari got under way - and what an adventure that was. My guide is originally from the United Kingdom, has a strong accent, and a funny way of saying things. His name is Roger Hawker - a pretty good name for a bird guide.
Day one of the safari was basically a driving day, from Maun to Shakawe, on the northwest side of the Okavango Delta. We had reservations to stay at Drotsky's, a beautiful lodge situated right on the banks of the Okavango River.
Well, as would be the case on many of the days to follow, things don't always go according to plan when you are in a foreign country. We didn't make it to Drosky's, as darkness fell and our safari vehicle had no headlights. But that is only part of the story. As we drove, it rained for several hours, creating pools of standing water in the roadway, which became instant water holes for domestic animals, which roam freely everywhere.
Not a minute went by when we weren't braking for cows, donkeys, goats, sheep, horses or dogs. The cows and donkeys were standing right in the middle of the road and we had to go around them to avoid a collision.
As darkness fell, it got quite scary not having headlights because we couldn't see the livestock on the road. However, we continued on. Imagine driving down Williamson Valley Road at 50 to 60 miles per hour, in the dark, with no headlights, with horses, cows and donkeys standing in the road drinking. What an adventure this safari was shaping up to be.
To be continued next week.
Eric M. Moore is the owner of Jay's Bird Barn, located at 1046 Willow Creek Road in Prescott. Eric has been an avid birder for more than 40 years. If you have specific questions or issues related to wild birds that you would like discussed in future articles, e-mail Eric at Eric@JaysBirdBarn.com.