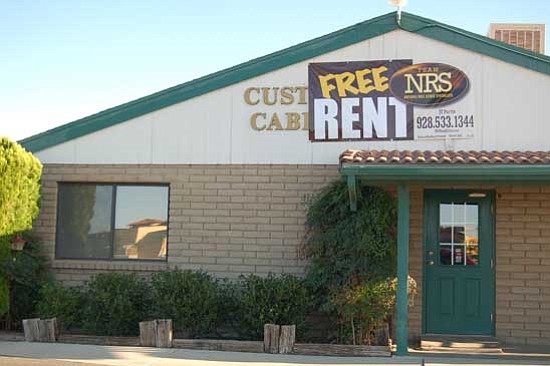 Originally Published: October 8, 2009 9:57 p.m.
The signs are popping up like lemmings. Vacant storefronts with signs offering a free month's rent. Prospective tenants paying bargain-basement rates per square foot.
The commercial real estate market is hurting.
J.T. Purvis, a professional counselor with National Real Estate Specialists in Prescott, said the short-term outlook is bleak.
"We're just coming into the downside of commercial," he said. "It's going to get worse before it gets better."
Purvis is pulling out every tool in the toolbox to get business owners into spaces. And that includes skipping the first month of rent as an inducement to fill the vacancies and make it easier on their wallets.
"It's so competitive out there right now, you've got to have a few extra tricks up your sleeve to get people to lease," he said.
Donald Teel, co-owner of Arizona Commercial, said virtually every part of the commercial sector, save for medical, is down about 40 percent from just a few years ago.
"We've got a lot of vacancy driving down lease rates," he said. "The market is still very, very soft right now. There are deals to be done."
His partner, Jim Pullaro, said this year is extremely tough as property values and vacancy rates are taking big hits.
Pullaro believes a recovery will begin gradually next year.
"We are 24 to 36 months out before we see the kind of recovery that people are comfortable with again," he said.
Pullaro and Teel's third partner, Dan Frederiksen, said management companies like his are doing what they can to keep their tenants in place.
Frederiksen said some management companies are working with tenants on their lease agreements. "I see that more than I care to count, especially in the last six months," he said. "We're getting creative. Every situation is different."
Pullaro said the sagging market is tough, but it's something that has to happen.
"When the market place turns like it is, it's a cleansing action," he said. "It's a good cleansing, but it's painful."
But Pullaro said today's market has some great options.
"We have been in a seller's market for a number of years and now we are in a buyer's market," he said. "There is a phenomenal opportunity for real estate investors to take advantage of the unprecedented pricing of commercial property."
Meanwhile, Purvis said another problem is that prospective tenants can't get financing.
"I think we're going to start seeing a large number of commercial foreclosures that haven't taken place. The banks haven't processed them because they don't really want to take them back now, but I think you're going to see in the next six to eight months a lot of foreclosures on commercial," he said.
And Purvis believes a recovery won't hit until around 2011.
"If you have the money and you need something, now's the time to get it done," he said. "People are selling stuff for less than they paid for it.
"It's unfortunate that somebody's misfortune becomes someone's fortune."
More like this story