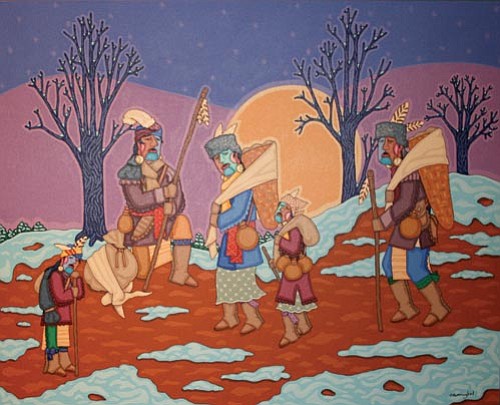 Originally Published: May 28, 2009 10:15 p.m.
Four renowned artists invite viewers to challenge how they perceive Native American art in Sharlot Hall Museum's new major exhibition, "Paint! Breaking the Buckskin Ceiling," opening this weekend in the main gallery.
The show will run for 18 months in a series of one-person, four-month exhibits, opening with Cherokee painter Jesse T. Hummingbird, and followed by Judith Durr, Baje Whitehorn, Sr. and Michael Kabotie.
Curator Sandy Lynch said the objective of the show is to feature contemporary artists who have had considerable success in breaking the "buckskin ceiling" - a term coined by New York Times journalist Ken Shulman describing an invisible barrier in the art world to Native American artists creating work other than traditional forms such as beadwork, buckskins and blankets.
"We looked inside Arizona to see what fine artists tell of the struggle that goes with an artist's art aesthetic, but who are American Indian artists," Lynch said, choosing Hummingbird's work as a strong opening for the show of primarily two-dimensional work.
Each artist's segment of the show will display about 20 original works.
Hummingbird, an Oklahoma-born Cherokee and Institute of American Indian Art scholar, has earned respect among artists as a master of composition, and has selected a series of work sharing a humorous story-telling quality reflective of his Cherokee heritage imbued with a vibrant, desert palette.
"We chose Jesse, because, humorously, I've always tabbed him as the "American Indian cubist,'" Lynch said.
Choctaw painter Durr will follow Hummingbird in the next installment, continuing with Whitehorne, Sr. (Navajo) and Kabotie (Hopi).
Viewing of the exhibit is included in the $5 admission for non-members of the museum, located at 415 W. Gurley.
Call 445-3122 for more information.