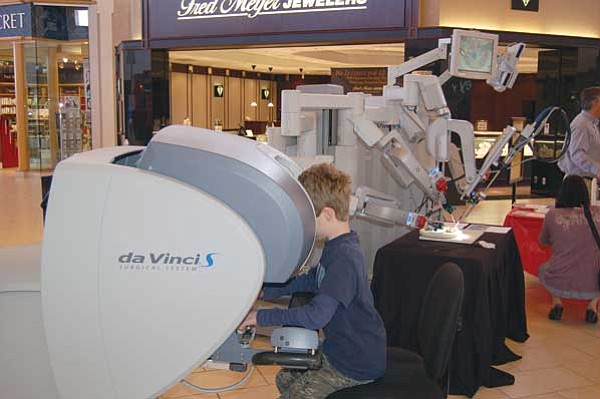 Originally Published: March 1, 2009 10:22 p.m.
Yavapai County residents got an opportunity Sunday to pretend they were the surgeon who was working with the aid of a multi-million daVinci robotic surgical system in the Prescott Gateway Mall.
Scottsdale Healthcare, the state's pioneer in robotic surgery, hosted the event.
In the surgical lab, Scott Floyd, Intuitive Surgical area sales manager, said Scottsdale Healthcare has used the daVinci robotic surgical system since 2002, for prostate surgery, urology, gynecology and general surgical procedures.
Dr. Gil Brito, a urologist and medical director of minimally invasive surgery at Scottsdale Healthcare, said he has done 500 surgeries with the robot since the hospital installed it. That is nearly one-fourth of the 2,200 robotic-assisted surgeries performed at Scottsdale Healthcare in that period.
"Robotic surgery is amazingly different from open surgery," he said, "as recuperating time and complications are much less."
Initially, robotic-assisted surgeries took longer, Brito said, but once a surgeon gets experienced with them they take the same length of time as open surgeries.
Brito said, "In a robot-assisted prostatectomy, the surgeon makes only a few small incisions, instead of one large incision from the pubic bone to belly button as in traditional, open surgery.
"Robotic prostatectomy typically results in less post-operative pain, shorter recovery time, quicker return of continence and less blood loss," he said.
Today, he does between one and four robot-assisted surgeries a week on people with prostate, kidney and bladder cancer.
Brito said it took him 60-70 cases to get proficient using the robot in surgeries. "Today, it doesn't take surgeons as long to get proficient with the robot because more doctors are teaching it.
"Like any other surgery, the more robot-assisted surgeries a doctor does the better the outcome," Brito said.
The daVinci robotic surgical system on display in Gateway Mall Sunday was a second-generation machine. Each one costs about $2 million, according to Floyd.
Brito said, "The second generation daVinci is definitely better. It utilizes High Definition. In standard laparoscopic surgery the monitor shows things in two-dimension. Robots use three-dimension. With the HD you can see so much better because the resolution is better."
The second-generation daVinci is also easier to use, he said.
Barber said, "The new daVinci robots have allowed us to do more complex surgeries than initially. We do more advanced cardiac and cancer surgeries today."
Floyd said, "The robotic arms' dexterity reproduces exact movements of the surgeon's hands, wrists and fingers."
Both Barber and Brito said that most insurance companies cover robotic-assisted surgeries.
Brito said with Scottsdale Healthcare regarded as one of the leaders in robotic-assisted surgery, it is getting patients from out-of-state and out-of-country.
He said this is partly because they realize this new technology is better for the patient. "It also lets the surgeon be better," he said.
More like this story