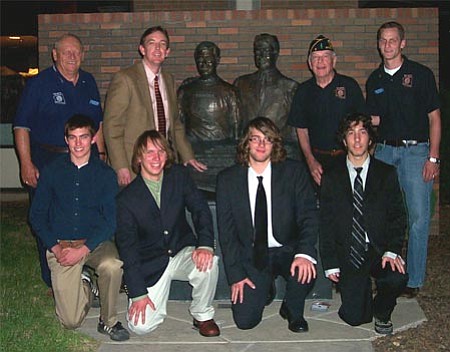 Originally Published: June 22, 2009 11:02 p.m.
Attending the 63rd Arizona Boys State at Northern Arizona University were: front row, from left, Braden Hicks; Wyatt Bond; Brennen Motz; Jordan Vickstein; back row, Dr. Jim Wilhelm, assistant director; Arizona Secretary of State Ken Bennett; Fred Lindquist, American Legion Boys State chairman; and Dean Wilhelm, senior counselor.
Prescott delegates received sponsorship from the Ernest A. Love American Legion Post #6, Prescott Rotary Club, Prescott Noon Lions and the Kiwanis Club of Prescott.
Boys State is a plan for teaching the fundamental aspects of citizenship, sponsored by the American Legion, Department of Arizona. Its purpose is to teach the youth of today constructive attitudes toward the American form of government.