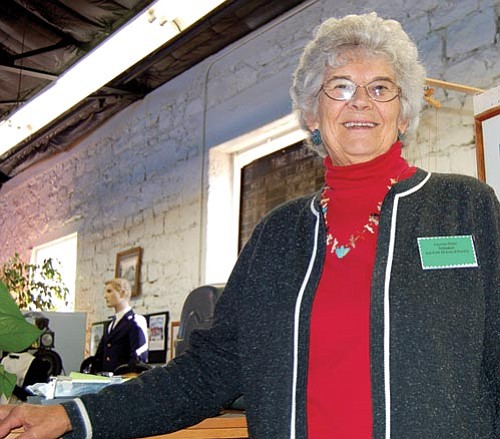 Originally Published: January 5, 2009 10:28 p.m.
ASH FORK - Fayrene Hume treasures the glory days of Ash Fork, a sleepy unincorporated community 50 miles north of Prescott, when trains roared through here carrying thousands of passengers to Phoenix in the late 1800s and early 1900s.
Although those days ended a half-century ago, Hume, who is president of the Ash Fork Historical Society, cherishes the role her residence played as a transportation hub moving people and goods around the state.
Since 1997, Hume, 71, has labored to protect Ash Fork's past while paving the way for a more promising future.
Today, the society's headquarters are in Ash Fork's former Arizona Department of Transportation building, an old Fred Harvey warehouse on the west side of Route 66.
In part, the 6,400-square-foot museum celebrates the revered times in Ash Fork, between 1882-1951, when the Santa Fe Railroad chugged through a junction here en route to Phoenix.
"This was the only way to get to the southern part of the state," said Hume, who moved from Arkansas to Ash Fork as a child and never left. "There were 17 tracks down here. They had trains going all the time. It was busy."
Added museum volunteer Nancy Ulrich, "At that time you had to come through Ash Fork to get to Flagstaff. From Cordes Junction heading north, there was no road. Everything to northern Arizona from Phoenix had to come up Highway 89 and go back."
To pleasantly depict the community's past, Hume and her corps of 10-plus volunteers, most of whom are seniors, spend several hours each week maintaining the museum's exhibits.
Among hundreds of other items, the museum houses historic photos, a railroad exhibit, late 19th-century farming and ranching equipment, Native American artifacts and Route 66 memorabilia.
In the summer, volunteers estimate 1,000 people each month pay a visit.
Each year, when the fourth graders at Ash Fork Elementary School study Arizona History, Hume takes a day to teach students about the town.
"I used to go to the school, but now that we have the museum, I can show them much more than I could carry to the school," she said. "Most of the families are new here, and they don't know the history here."
The society works with Yavapai County to preserve specific items, such as a linotype machine from Prescott that is on display.
Nancy Ulrich - who this past year helped husband, Wayne, build an 8-foot by 9-foot model of Ash Fork's famed 200-room Hotel Escalante Harvey House (demolished in 1968) for the museum - donated an antique cream separator and a telephone switchboard.
Nancy's mother saved the separator, which she bought new in 1923 and used after milking cows on the family's Nevada ranch, and stored it inside her garage.
"Older people come through and they'll say, 'Oh, I haven't seen one of those in years,'" Nancy said.
The society also plays host to an annual open house in late December where it serves lunch and shares its latest exhibits with the public.
Fifty-five people showed for the Dec. 13 event this past year, highlighted by the Escalante model's unveiling.
"We're working all year long because we're adding all the time," Hume said. "There's always something new for visitors to see."