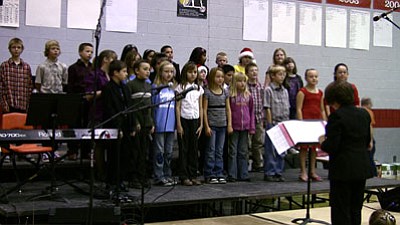 Originally Published: December 17, 2009 2:20 p.m.
CVRnews.com video produced by Salina Sialega and Chris A. Porter
>You may need Adobe Flash player to view this video. Click here for free download.
Video length 1 minute, 24 seconds
At the Chino Valley Hometown Christmas event, tree themes included birds and birdhouses on the Antelope Garden Club's tree, pill containers on the Walgreen's tree and copies of old photos on the Chino Valley Historical Society tree. Territorial Elementary School's tree was an adorable pile of tumbleweeds decorated with cowboy hats and other items. CV Family Dentist's tree featured the tooth fairy holding a matching blue toothbrush. People strolled through a gym full of the decorated Christmas trees and displays, listened to children choirs perform and the high school drama team perform Dec. 4-5, 2009 at Heritage Middle School. The Chino Valley Chamber of Commerce hosted the free event.