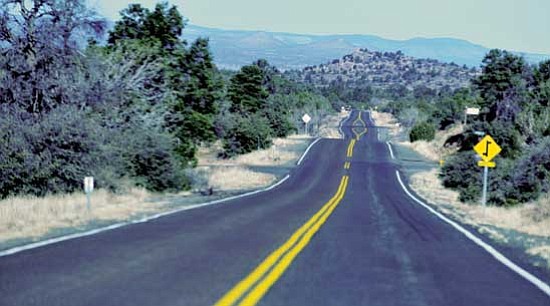 Originally Published: December 15, 2009 8:46 p.m.
Williamson Valley residents hope that Williamson Valley Road will be the name of the next Yavapai County Scenic/Historic Route.
The county based its program on a similar state plan, but adapted it for Yavapai County, said county transportation planner Chris Bridges. The state previously designated Route 66 and the Apache Trail as scenic and historic. In August the county supervisors recognized Page Springs Road in Cornville.
"What it does is promote a sense of pride in the community," Bridges said of the Scenic/Historic Route program. In Cornville, a historical society formed around the project, he added.
The scenic/historic moniker promotes limited curb cuts and saves native vegetation, Bridges explained.
While the state program mandates restrictions, the county program merely encourages preservation.
"We wanted to promote that we've got some important history and some great places to drive," Bridges said.
Bridges called Williamson Valley Road "a very important link from Prescott to the western U.S."
Williamson Valley resident Kathy Lopez submitted an application to have the road join the county's program and plans to turn in a revised version in January. Her original request included 66 miles up to Seligman. However, the county does not own the right-of-way for the entire road, so it could not include those sections. The new proposal requests that the scenic/historic designation run from the Prescott city limits to Walnut Creek.
Lopez, the president of Morgan Ranch Nature Park, filed the request under the auspices of that organization. Many people helped her gather the information she needed, she said, including Ada F. Heckethorn, a Chino Valley resident who wrote a book about the road called "The Toll Road: Prescott to Fort Mohave" and supplied some photographs.
"We wanted to preserve the history of the area," Lopez said. "I thought it would be a good opportunity to put the history in writing. There wasn't one document that put it all together."
Lopez has inked a book contract with Arcadia Publishing based on her proposal. All proceeds from that book will benefit the Morgan Ranch Nature Park, she said.
Residents can nominate other roads for the program through the county Public Works Department. A committee reviews and rates the proposals, then forwards them to the Board of Supervisors. The county then places signs along the road to alert the public. For a form, go to www.co.yavapai.az.us/Content.aspx?id=46388.