Man gets death for murder of Prescott couple
By AMY TAXIN
Originally Published: April 10, 2009 11:41 a.m.
SANTA ANA, Calif. - A judge sentenced a former child actor to death Friday for murdering a former Prescott, Ariz., couple by tying them to an anchor and throwing them overboard from their yacht off Southern California.
Orange County Superior Court Judge Frank F. Fasel imposed the sentence recommended by the jury that convicted 29-year old Skylar Deleon of killing Tom and Jackie Hawks.
"It is the judgment and order of this court you shall suffer the death penalty as to each count," Fasel said.
Prosecutors said the Long Beach man feigned interest in buying the couple's nearly half-million-dollar yacht and killed them during a test cruise out of Newport Harbor in 2004. The Hawkses' bodies were never found. They had wanted to sell their yacht so they could move back to Prescott to be closer to their grandchildren.
DeLeon was also convicted in the 2003 killing of Jon Jarvi, an Anaheim man he met on a work furlough program.
The judge denied an automatic motion seeking reconsideration of the jury's death recommendation and imposition of a life term.
"The horrors of these three murders themselves are more aggravated when considering, in addition to what the court has already considered, the mental anguish all three of these people must have experienced," Fasel said.
"I find the aggravating circumstances are so substantial in comparison to the mitigating circumstances that it warrants death instead of life without the possibility of parole."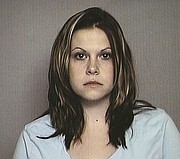 Prosecutors said Deleon and his then-wife Jennifer Henderson crafted the plan to kill the Hawkses to steal their boat and savings.
Prosecutors said Deleon and two other men went with the Hawkses on the test cruise, where they forced the couple to sign over ownership of the yacht before throwing them into the ocean as they begged for their lives.
After the yacht killings, prosecutors said, Deleon and Henderson scrubbed the boat clean with bleach wipes in Newport Harbor.
Henderson was convicted in 2006 of murder and murder for financial gain and was sentenced to two terms of life in prison without parole.
Another defendant, John Fitzgerald Kennedy, was also convicted in the murders earlier this year. The jury has recommended the death penalty for Kennedy, who is set to be sentenced in May.
Myron Gardner, who was initially also charged with the murders, pleaded guilty last month to accessory after the fact and murder charges against him were dismissed. Alonso Machain, who testified that he and Kennedy were on the boat with Deleon the day of the killings, also faces murder charges. He has yet to stand trial.
Last year, jurors deliberated nearly two days in the penalty phase of Deleon's trial before recommending death.
Defense attorney Gary Pohlson had pleaded with jurors to spare his client's life, arguing that Deleon was abused by a drug-dealing father, which left him predisposed to violence.
Prosecutor Matt Murphy urged jurors to recommend death for Deleon for the cruel, callous way he killed the Hawkses and Jarvi, whose throat was slashed and body dumped in Mexico. Murphy said Deleon killed Jarvi after receiving money from him that he used to pay his own bills.
Deleon's acting career included an appearance on the "Mighty Morph'n Power Rangers," according to IMDB.com.
More like this story
SUBMIT FEEDBACK
Click Below to: