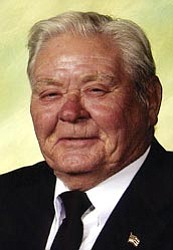 Originally Published: October 8, 2008 7:38 p.m.
Allan Michael Hodgson, 80, of Prescott Valley passed away Oct. 5, 2008. Allen was born Aug. 13, 1928, in Fargo, N.D., to the late Charles P. and Alice (Murphy) Hodgson.
Allan married his sweetheart, Grace Mejia, Nov. 27, 1993. He enjoyed his career as a construction foreman. Allen lived in Arizona for 17 years, having moved from North Dakota. He has resided in Prescott Valley since 1992. Allen was a faithful member of Emmanuel Lutheran Church. He also gave of his time to serve as treasurer on the board of directors of New Horizon Adult Care Home. He enjoyed reading, watching Western movies and spending time with his friends and family, especially his canine companions, Bogo and Barney II.
Above all, Allan loved his family very much. Allen is survived by his wife, Grace Marie Hodgson; his children, Connie and Bob Rodman of West Fargo, N.D., Richard and Kay Hodgson of Grand Forks, Minn., Jim Hodgson of Sacramento, Calif., Bob and Nina Hodgson of Newman Lake, Wash., Evon and Kurt Stemm of Tucson, Ariz., and Randy Mensi of Phoenix, Ariz.; his brothers, Cap Hodgson of Tacoma, Wash., and Bill and Juanita Hodgson of Fargo, N.D.; his sister Betty and Neal Tracy of Chapel Hill, N.C.; his grandchildren, Hope, Heather, Heath, Jamie, Christy, Lisa, Tracy, Jasper, Jennifer, Nik, Karl, Monica, Kylie, Miranda; and his great-grandchildren, Sara, Rachel, Missy, Casi, Morgan, Emma, Andrew, Luke, Victoria, Gabrielle, Amanda, Jackson, Sawyer and Taylor.
Memorial services will be 11 a.m. Saturday, Oct. 11, 2008, at Emmanuel Lutheran Church, 7763 E. Long Look Drive, Prescott Valley.
Memorial donations may be made in Allan's name to Emmanuel Lutheran Church, 7763 E. Long Look Drive, Prescott Valley, AZ 86314, or New Horizon Adult Care Home, 7020 E. Long Look Drive, Prescott Valley, AZ 86314.
Arizona Wakelin Bradshaw Chapel assisted the family. Please visit and sign Allan's guestbook online at www.ruffnerwakelin.com.
Information provided by survivors.