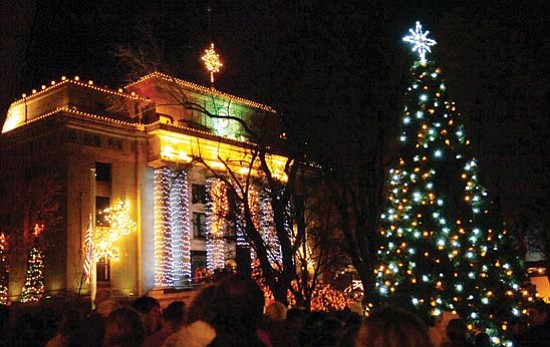 Originally Published: November 7, 2008 9:03 p.m.
Residents of the tri-cities can watch the red, green, gold and white lights on the Statehood Tree in the Courthouse Plaza perform to Christmas carols from Dec. 6 through Jan. 19.
David Mauer, Prescott Chamber of Commerce CEO, said this is the 54th year organizers have lighted the Courthouse Plaza in downtown Prescott from dusk to midnight during the Christmas and New Year holiday season.
For the past four years, Christmas Lights Decorators Co. from Mesa has put up, tested and taken down the lights and strands.
Three years ago, to give the plaza a new look, Mauer said, they placed a big, lighted tree over the water fountain.
Mauer said two years ago the chamber put computer animation music on the Statehood Tree. The lights are coordinated to blink on and off with the music, he said.
This year, he said, they plan to light the veterans' area on the north side of the plaza as a memorial to former Yavapai County Supervisor Gheral Brownlow, who oversaw the lighting of the courthouse and plaza for seven years.
To prepare the tree for the holiday season, Christmas Lights Decorators owner Doug Topham said they cover it four times with different strands of different colors of lights. "We break the tree into 16 sections - four each of white, red, green or gold lights - to blink on and off as each song performs," he said.
Topham said the Statehood Tree is more than 70 feet tall, and it takes 200 to 225 hours to put the strands of lights on it.
Once Christmas Lights Decorators crews place the strands of lights on the tree, they are plugged into a computer programmed with 16 Christmas songs. "I try to get a mixture of old-fashioned, modern, instrumental and vocal Christmas songs," Topham said.
Since the Statehood Tree is in the park, he said they have to put plywood down for the bucket trucks to drive on so they don't damage the grounds while putting the lights on.
Topham said they start working on the lights and putting them up over the Labor Day weekend and finish up on Veterans Days. Taking them down takes three to four weekends after Martin Luther King's holiday, he said.
Topham said putting up and taking down the lights stretches over several weeks because they can only work on the courthouse or on the trees in the plaza when the courthouse is closed.
He said it takes four bucket trucks, a lift and 12 people 2,000 hours to put about 320,000 lights on 25 trees and the courthouse and take them down and store them away in boxes.
Topham said Prescott has the best location and trees of the 15 cities Christmas Lights Decorators put up lights in each year.
Mauer said it costs the chamber $75,000 a year to get the lights and decorations put up, taken down and maintained.
More like this story