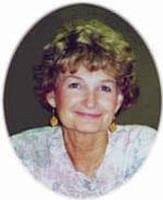 Originally Published: May 12, 2008 10:23 p.m.
Sylvia Jean Jernigan, 68, of Vernon, Ariz., passed away on Friday, May 9, 2008, in Lakeside of Lymphoma. Sylvia was born on Oct. 7, 1939, in Yuma, Ariz,. to Eric and Marie Crowder. She worked for many years in the family bee business with her father and sisters. Sylvia graduated from Yuma Union High School in 1957 where she played French horn in the school band and orchestra, and was a majorette in the marching band. She attended Arizona State College (now NAU) in Flagstaff, Ariz., from 1957 to 1959. On Sept. 19, 1959, Sylvia married Aubrey "Bert" Jernigan who was in the Air Force, stationed at Yuma. Sylvia and Bert raised two children, Scott and Darrick, in Yuma and Chino Valley, Ariz. Sylvia's highest priority was her love for God and her family. She found great joy in spending time with her grandsons, Keith and Cory. Sylvia enjoyed camping, hiking, gardening and family gatherings. She worked for many years in the accounting field and served as Town Clerk for the Town of Chino Valley, Ariz. Sylvia was secretary for Chino Valley Word of Life Church and was an active member and bookkeeper at White Mountain Life Church in Show Low, Ariz. Sylvia and her husband pastored Faith in The Word Church in Prescott, Ariz. Her beautiful smile, kindness to others and unending faith will be missed by those who love her.
Sylvia was preceded in death by her parents, Eric and Marie Crowder. She is survived by: her husband of 48 years, Aubrey "Bert" Jernigan of Vernon, Ariz.; her sons, Scott Jernigan (Elaine) of Hewitt, Texas, Darrick Jernigan of Glendale, Ariz.; her grandsons, Keith Jernigan, Cory Jernigan both of Hewitt, Texas; her sisters, Elaine Mooneyham (Stan) of Chino Valley, Ariz., Mary Lavis of Vernon, Ariz., Peggy Frazer (Guy) of Tucson, Ariz.; and cousin, Gail Carey of Chino Valley, Ariz. She is also survived by many other cousins, nieces and nephews.
A Memorial service to celebrate Sylvia's life will take place 2 p.m., Saturday, May 24, 2008, at Grace Church, 700 S. 19th Avenue in Show Low, Ariz. A Graveside service will be the following Saturday, May 31, 2008, at 2 p.m., at The Chino Valley Cemetery, Road 2 South and Road 1 West in Chino Valley.
In lieu of flowers, the family requests that memorial contributions be made to White Mountain Life Church, P.O. Box 2257, Show Low, AZ 85902 or to White Mountain Hospice Foundation, 1789 W. Commerce Drive, Lakeside, AZ 85929.
Owens Mortuary of Show Low is handling the arrangements. For those who have special memories and would like to send private condolences or to sign our online guestbook, we invite you to visit our website at www.owensmortuary.com
Information provided by survivors.
More like this story