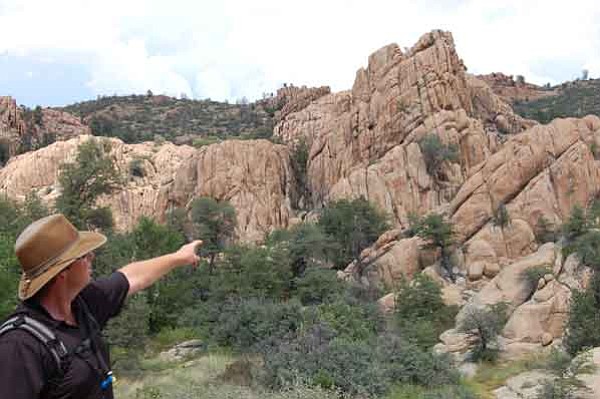 Originally Published: August 27, 2008 10:26 p.m.
PRESCOTT - Less than a month after finalizing a $3 million open space purchase in the Granite Dells area, the Prescott City Council approved another major Dells purchase this week.
In a unanimous vote, and with little discussion on Tuesday, the council approved spending $4 million to buy 80 acres of land in the Dells area.
While the city's most recent purchase included 37 acres on the east side of Highway 89, the new purchase is on the west side of the highway, and abuts the granite-studded land that the city already owns around Willow Lake.
The parcel, which the Harold James Family Trust currently owns, came to the city after trust representative Ron James approached City Manager Steve Norwood about a possible city purchase.
Norwood said James offered the land to the city at a 10-percent discount off the appraised value, which came in at about $4.5 million.
Knowing that the council had earlier placed Dells properties at the top of the city's open-space priority list, Norwood said he moved forward with negotiations. Ultimately, James also agreed that the city could pay the $4 million in two $2 million installments over the next two years, with no interest.
James told the council Tuesday that he saw the open space purchase as a "win-win situation." He added that the trust originally acquired the land about 15 years ago as a preservation move, after developers eyed it for a possible hotel site.
Now, James said, "I'm glad to pass the (preservation) torch to you."
Council members, who had discussed the proposed purchase in closed-door executive earlier this month, had nothing but positive things to say about the purchase this week.
"I'm so pleased that the James family came to us," Councilwoman Mary Ann Suttles said.
The parcel, which Parks and Recreation Director Debbie Horton described as ecologically and topographically significant, would offer an access link between Highway 89 and the city's lake property.
Horton noted that the city hopes to take advantage of that by linking several recently completed new trails near the lake with new trails on the 80-acre parcel.
The city will pay for the property through its open space fund, which gets its revenue from Prescott's 1-percent sales tax for streets and open space.
Currently, about $5.5 million is available in the open space fund. For the past several years, the city has allocated $3 million per year to the fund, and plans to add another $3 million in the next fiscal year, which begins in July 2009.
The 80-acre parcel is across Highway 89 and southwest of the Phippen Museum.
The city expects escrow on the sale to close on Nov. 15.
Contact the reporter at cbarks@prescottaz.com