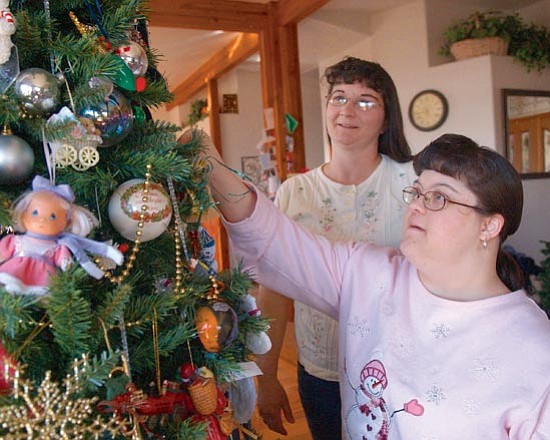 Originally Published: December 29, 2007 7:54 p.m.
CHINO VALLEY - Twenty-two-year-old Ashley Millsap says she does not have Down syndrome: "I have Up syndrome!" she'll tell you with laughing positivity.
That can-do attitude has seen her through many rough patches in her life, from heart surgeries to learning to walk, talk and feed herself.
Over the years she has pursued her dreams of graduating from Chino Valley High School and taking a few college courses. What she saw her friends doing, she wanted to do.
But now that she is a young woman, that I-can-do-anything-my-friends-do attitude is worrying her mother, Marie.
Ashley is determined to learn to drive, get married and have a baby.
"I think I get married soon," Ashley tells a visitor to her home.
Her mother sighs.
"Ashley sees how things are supposed to work and she wants to do what everyone else does and have a family," Marie explains.
"That's life," Ashley chimes in hopefully.
Marie smiles. Ashley's logic is solid, but her mother knows that, practically speaking, Ashley may have finally run into some harsh realities: She does have Down syndrome; her mental and physical abilities are limited; and she does need help with day-to-day living.
Down syndrome is a genetic condition that causes delays in physical and intellectual development. It occurs in about one in every 800 live births. Individuals with Down syndrome have 47 chromosomes instead of the usual 46. An error in cell division causes the condition.
In 1929, people with Down syndrome had a nine-year life span. Today, people with Down syndrome live well into their 50s and 60s.
Low muscle tone, a single crease across the palm of the hand, a slightly flattened facial profile and an upward slant to the eyes are the typical physical characteristics of babies with Down syndrome. A chromosome study confirms the diagnosis.
The chances of having a Down syndrome baby increase with age, experts agree. But they also say
it is important to remember that 80 percent of children with the disease are born to women under 35 years of age.
This year, a recommendation by the American College of Obstetricians and Gynecologists sparked controversy. The organization now recommends that all pregnant women, regardless of age, get prenatal screening for Down syndrome. Previously, doctors automatically offered women the screening if they were 35 years and older.
Down syndrome family support groups take issue with the recommendation. They say not all doctors are good at explaining in detail the pros and cons of having a Down syndrome child. Too often, they say, women opt for abortions out of fear before they have a broad understanding of what their test results mean and before learning that Down syndrome varies in severity. That means developmental problems can range from severe to mild.
Adding fuel to the fire is an Israeli study in the Sept. 19 issue of the Journal of the American Medical Association on couples at risk for having children with Gaucher disease, which can be severe or very mild. Gaucher disease is an inherited genetic disorder. The study found far fewer pregnancy terminations among
couples that, in addition to receiving genetic testing,
had medical counseling with a Gaucher disease expert.
That point is not lost on Marie.
After she and her husband Troy had Ashley - she was their first child - the doctors wanted the couple to undergo genetic testing.
"I wouldn't do it," Marie said.
The two went on to have five more children - none with Down syndrome. If they had had the genetic testing and discovered they were at risk for having more Down syndrome children, would they have stopped with Ashley? It's a question they opted to avoid, and Marie says they are glad they did.
She understands the churning raw emotions that can propel a woman into choosing an abortion, but she does not approve of it.
"I would say, have that baby. They'll change your life. They'll touch you in a way that no other child can.
"I think if they knew how much they could love and learn from that child, they would never do that," Marie said.
Even Ashley's brothers and sisters - who range in age from 6 to 21 - have learned from her.
"It's been good for them," Marie says, "They have more compassion toward those with special needs."
What will happen to Ashley when her parents are not around anymore to watch over her?
"Early on, I thought of that a lot," Marie admits. "But not anymore. I know her brothers and sisters will help."
And, she notes, the state has programs to benefit people like Ashley, who is independent to a degree but cannot be on her own.
Marie says that now that her daughter is an adult, she worries "very much" about people taking advantage of Ashley.
Even though Ashley is almost always upbeat, she does get frustrated.
"She gets depressed knowing there are things she's reaching for that she'll never have," Marie said.
Still, Ashley's parents do their best to give their child as close to a normal life as possible. With the help of their church - the Church of Jesus Christ of Latter-day Saints - they arranged for Ashley to have a "mission" adventure - she knits hats and stitches quilts for distribution around the world during disasters.
Recently, Ashley cut her waist-length braid to give to Locks of Love, a program that uses real hair to fashion wigs for disadvantaged children suffering medical hair loss.
For the past six months, Ashley has been working two to three days a week at a friend's Chino Valley day care center reading to the children and keeping them entertained.
"My children adore her," said Amy Giles. "My kids actually cry if she doesn't come. I have one 7-month-old girl who just lights up like a Christmas tree when Ashley walks in."
It is a way, says her mother, for Ashley to experience some of the things she is longing for, like having children of her own.
"My biggest fear for Ashley would be her giving up on her dreams and goals because she feels defeated," Marie said. "I just want her to be happy. I want her to experience all the joys that anyone can in this life."
Contact the reporter at tshultz@prescottaz.com