Real or real magic?
By RACHELLE BUMP
Originally Published: November 23, 2005 7:42 a.m.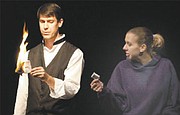 PRESCOTT VALLEY – When he wasn't performing magic, he was telling jokes that made fun of magic, but no matter what he was doing, children in the audience were deciding whether or not what Mark Robinson was doing was real, or real magic.
The magician/comedian visited Glassford Hill Middle School in Prescott Valley Sunday to make the kids in the audience say "oh" and "ah" as he made items disappear, juggled a bowling ball, an egg and an apple and turned Ritz crackers into magic fairy dust.
Brian Evans and his brother, Bradley, watched the tricks Robinson performed with wide eyes, and though they were impressed numerous times, Bradley said one of the funniest tricks was "the Ritz cracker trick."
He said his favorite trick was "the $20 trick," in which Robinson placed an audience member's $20 bill in one envelope and pulled the same $20 bill from another envelope tucked away in his magician's vest.
Sunday's event was the 10th annual magic show that the Prescott Evening Lions Club has hosted to raise money for local charities. Ron Smith, the "tail twister" at the Lions Club, said they raised about $10,000 last year at the magic show.
"This is a very interactive show," Smith said, adding that this is the reason children enjoy this free event. "It's a child's show. It gets them laughing and it's a real fun time for the kids."
Robinson was very comedic during his show, making the kids in the audience laugh from beginning to end. He was lively and energetic and performed one trick after another.
While audience member Kate DuBroy believes Robinson really performed these tricks using magic, another child in the audience, Maranda Walker, was a little more skeptical.
"I think he has a few tricks," she said.
Kate's brother, Alexander, said his favorite trick was the envelope trick.
"When he hid the money, it was so amazing," he said. "I think it's kind of real and I think he knows some tricks, but they're hard to do. He's just got so many tricks, and he's fast like fire."
Maranda's brother, Cory, said watching Robinson's show was "like hypnotism."
More like this story
SUBMIT FEEDBACK
Click Below to: